AXMO: The Rising Stars Of Rave Culture
Today we're joined
by the ultra talented duo AXMO. Having made waves with their Rave Culture releases including three W&W collaborations in the past two years,
André and Morten are now here in a post Covid world as the new DJ kids on the block from Germany. They've just released their first ever livestream, and it's an incredible recording of their packed Retro Music Hall show. Turn it up and get ready for the IDs as you dance away to their signature mix of big room, trance, happy hardcore, and hardstyle!  
Guys, thanks so much for joining us to celebrate your Retro Music Hall show! We can't believe it's your first recorded live set! What does the milestone moment mean to you and what made this the right time to record your first set?
It was an absolutely amazing milestone for us! We had so many different ideas for a livestream, but each time we weren't 100% sure about it and we are pretty much known for the fact that we only do something if we are 100% convinced by it. So, we decided to record the liveset in a fully packed club where the fans have the possibility to be part of this livestream and we are so overwhelmed by the final result! 
Talk to us some more about the sound that AXMO stands for as DJs. What are some of the key elements that we can hear in the set?
We would say that the sound of AXMO stands for a variety of genres. We love to combine big room, trance, happy hardcore and hardstyle with each other. Having a combination of emotions, uplifting melodies and harder stuff is definitely the AXMO signature. In general all of these genres have their own particular fanbase, but our goal is to bring all of these people together to enjoy the full AXMO experience. 
Looking at your tracklist, can you highlight three tracks included and why they stand out?
We would highlight three different tracks which show the variety we already mentioned before. First of all, a rework of the all-time classic Dance Nation – "Sunshine" which fits in as a perfect summer trance track.
A remix from Derb which contains a massive and hard drop and a final happy hardcore ID with STVW for the perfect ending of a set. 
On the production front, you have consistently delivered over the past several years, and three collaborations with W&W in two years is nothing short of spectacular! Take us back, when did you first hear W&W's music and what was your impression?
We already knew them for their track "The Code" back in 2012 which was already pretty awesome! But as they released "Bigfoot" in 2014 we were like, "Holy Sh*t these guys are on an absolutely different level." They gave big room their own signature and developed it in their own very special way! 
How did you build your relationship with Willem and Wardt over time and grow to become integral members of the Rave Culture family?
Well everything started with "Rave Love." After the collab we stayed in touch with the boys and shared our passion for electronic dance music. Visit them at their home, got invited to different venues like ADE and their Airbeat One show in 2020. We became pretty good friends and they helped us a lot to grow, and get really comfortable with the music business. We are really grateful that we are able to call them our friends. Additionally we also got in touch with the whole Rave Culture team who are doing an amazing and incredible job! It is a really special movement and we are so happy to be part of it.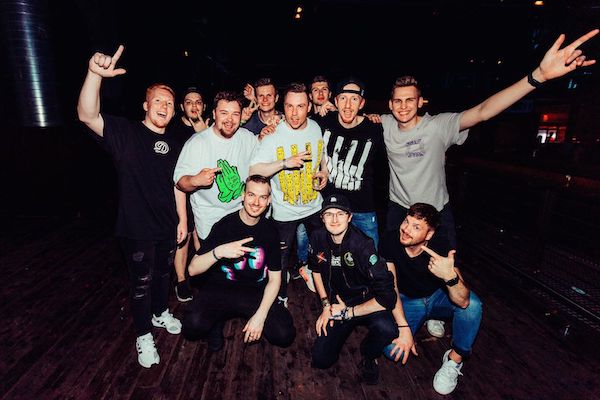 Can you tell us some more about what Rave Culture and the associated family means to you both? 
It is hard to find such energetic and faithful fans. So that is the reason to call them the Rave Culture family. It really is like a big family meeting at each show and makes the shows even greater. 
Which release of your own are you most proud of, and why?
We would definitely say "Rave Love." It was the biggest step in our career so far and made us really confident that we made the right decision to make music as full-time job. Without this step it would not have been possible to do it 24/7. 
Your collaboration repertoire is already super impressive – W&W, Sandro Silva, KEVU, R3SPAWN, 22Bullets. Who are a few other artists that you'd like to work with? Maybe there are already some other collabs in the works you can tell us about.
It is really hard to tell because there are so many well known artists, but also upcoming producers, who we would love to work with. We can't go that deep into the details, but you can be sure that there is a lot on the way and even more planned for the future. Just stay tuned and make sure to keep an eye on our socials for new music! 
Let's look ahead. If we were to fast forward one year from today, where would you like to see the AXMO project? If we went even farther ahead, say in 5 years, what are a few goals that you'd like to accomplish by then?
We weren't able to experience that many shows so far, but our first two shows were already massive! So we are just looking forward to more shows, making new music and being part of Rave Culture and their future plans! Five years is quite a long time, but we are definitely looking for a way to support talented and upcoming producers as we were back in the days. As long as they bring passion and a vision! 
And what's keeping you excited, creative, and motivated in the short term? Any plans for spring and summer that you'd like to share?
Sharing our new music live on stage, seeing happy people dancing to our tracks and having a great and unforgettable summer! We have so many ideas in our mind that we are just looking forward to the future!