Djs From Mars Celebrate A State Of Dance Music 2020 With Megamashup Mix
What better way to celebrate the 2020 A State Of Dance Music report than with a rewind through the year's biggest tracks! And what bigger way to deliver that mix than from the mashup kings themselves, Djs From Mars. The duo who boast 5 of the Top 15 mashups in this year's report, put together an incredible mix featuring over 50 of 2020's biggest tracks! Djs From Mars are also poised for a huge 2021 themselves, and in our interview enjoy an inside look into their workflow, growing relationships with Tiësto and David Guetta, original productions and more!
Hey guys, thanks so much for joining us today, and thanks as well for making the A State Of Dance Music Megamashup Mix! What did the opportunity to make the mix mean to you guys?
Hello guys, first of all thanks for having us involved in this! When we received the idea we were immediately super excited!! The website is one of the most used references for the whole scene, so being involved in creating the official mix of the year for 1001Tracklists means a lot to us! It's like having the official graduation in mashups now! On a serious note, yes we're super proud to be part of this, hope everyone in our scene will like the result, we tried to make it very special. We always create the Best Of The Year Megamashup, but usually with pop songs. This one is really special, it's focused on our community, and especially after 2020, we hope it will mark the beginning of a rebirth for all of us involved in the club scene!
If you had to wrap 2020 as a year musically in one sentence, how would you describe it?
Hm….In one word, we would say it's been PROLIFIC and KALEIDOSCOPIC! Since there were no big festivals or tours, every DJ and producer had more time to stay home and produce new music. Without the pressure of the previous years, everyone had the chance to experiment with new sounds. So we had some great music releases this year! We think about David Guetta and Tiësto, probably the most popular DJs in the world, going to explore underground sounds with their side projects. That would have been impossibile only two years ago, when everyone was only jumping on and off a plane! So despite the club scene having seen one of the worst seasons ever, the music scene felt suddenly reborn!
Talk to us about how you approached making the Megamix, and some of your tips and tracks for anyone out there working on their mashup game.
We're used to this kind of megamashup with 40-50 songs, so we have some kind of "secret weapons" to make it happen… guys don't try this at home! Haha just kidding, well first, the most important part is collecting all of the tracks and labeling them with the correct keys and bpms. It's the most boring part, but once you do this properly, you'll be super quick later.
After that, we start playing around, seeing what are the most used keys in the bunch of tracks we want to use, try the first combinations with similar keys, build some kind of "big parts" in the full layout, then try to combine the different parts in different keys in the most smooth and fluent way (a bit of knowledge in music theory can definitely help here!). In the end, when we have the full layout, we try to work with some additional production, sidechaining some tracks and adding our beats, so that the final result sounds like a real track and not just a mix of different songs.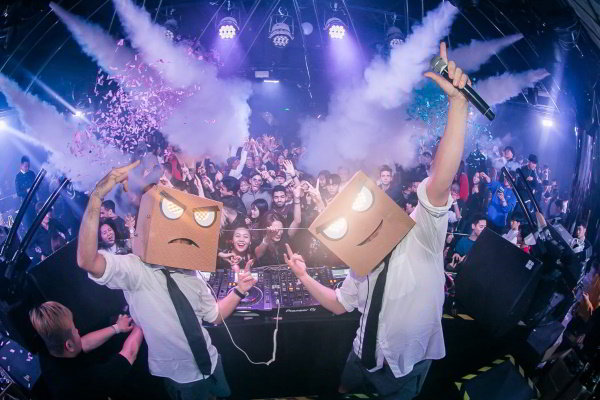 Can you highlight three tracks, artists, or edits you included in the Megamashup Mix and why they stand out to you?
Well we have to say David Guetta reinvented himself this year, and created an actual new movement with his Future Rave sound with MORTEN. Plus he has his tracks with the Jack Back project, and he's also still producing pop hits like "Let's Love"… well that's unbelievable. We have been in touch with him for a couple of years, working together on some mashups and also some official remixes, and he's 200% focused on music 24 hours a day, so he's super inspiring for us, definitely a living legend! We've been happy to include some Jack Back and Future Rave tracks by him in the megamashup, and also gotta say honestly the mix between "Kill Me Slow" and "Dreams" is our favourite part of the whole mix! Two great tracks working even better when played together! We admit we had goosebumps working on that part!!.
Also Tiësto, still creating global pop hits like "The Business," and at the same time releasing super underground tracks like "5 Seconds to Sunrise," well man, that's really crazy for us. That means you're not only a DJ, but that you have a special music taste. The final part of the mix with "5 Seconds To Sunrise" is very emotional for us, the perfect soundtrack for the end of this journey.
Also one of the best parts of the mix is the one with the Tinlicker remix of "Children" – we know that track has been remixed like 1000 times, but this version is really one of the best so far! When the beat starts it's super powerful, even still keeps the original dreamy mood… so we were happy to make it work in the central part of the mix! 
In this year's report we also find that you had five of the Top 15 Mashups of the year! What does that honor mean and how have you guys become the mashup kings?!
Weeeell that's a great achievement for us!! Thanks for letting us know, we didn't know it yet!! Going to choose the best wine to celebrate tonight!!
On a serious note, we think we started working on mashups like 12 years ago, when this kind of art was not too popular yet. So in the last 12 years we worked like at least 8 hours a day, on productions, remixes, mashups, nonstop. So we think that some experience and some hard work always pays off in the end. But now we're ready for the next step, already working on some original music for the next months, can't wait to show those new tracks to y'all!
What have been a few of your favorite all time DJ supports of your mashups? You've become a fixture in David Guetta sets!
Yes! Working with David, as we mentioned before, is a privilege for us. We're learning so much from him, he's really great. Everytime we see he's playing some mashups we made together in those huge scenarios for his live shows we're amazed. Like, really our music has gone that far!!? Still can't believe that sometimes! But yes in the last years we received great support and reactions from a lot of big names: Tiësto, David, but also Steve Aoki, Afrojack, Nicky Romero, Laidback Luke, and the list is very long! We're super thankful for all of those supports, it's really motivating to work harder and harder and go to the next level!
Let's reflect on your year a bit, can you tell us some more about 2020 for Djs from Mars? While there were obvious challenges, what were some of the positives for you guys during this time?
Yes, we tried to find the positive side of a negative situation. So we created home studios, and we started producing new music without any breaks. Probably the stop of the show/travel/hotel routine had a positive impact on our workflow. Finally we had no stress, not the usual "this needs to be finished today" state of mind that we always had in the last years of touring nonstop. So we had the chance to make music that we really liked, and also to delete some projects if we were not 100% happy with those ones. Two years ago we had to finish everything because time was so short! So we think we created better productions with this new state of mind. And the results (official collab with Tiësto, official remix for David Guetta, official remix for Laidback Luke, over 50 million views on our YouTube channel in the last 6 months) are clearly the best ones we ever had in our entire career! Now of course we hope to start touring again, but we learned the lesson from these last months and our approach to music will be better from now on, even when we'll be touring again!
You've got a new single "Sunday Morning" coming out this Friday on Controversia Records. Talk to us about that track, what makes it special?
Yes, we love this vocal, we tried to create a natural instrumental for it, and we really think that the track flows as natural as a river... we're super happy with the result. When we were working on it we liked to check the mix on a sunny day, in the morning, sipping the first coffee after waking up. When we felt all the elements were just on point, we rendered the final version!
Also we're super happy for our first collab with Alok's label Controversia, can't wait to see what's going to happen with this release, super excited about that!
And as we look ahead to 2021, what are two goals that you hope to achieve this year?
Hopefully touring of course! We miss clubs and being on stage so much! But also, we're kind of studio freaks so we promise we'll work hard to create some great music this year!
So two goals: Making great tracks and playing them on an actual stage in front of a proper crowd!