LOOPERS - 1001Tracklists 'GREED' Exclusive Mix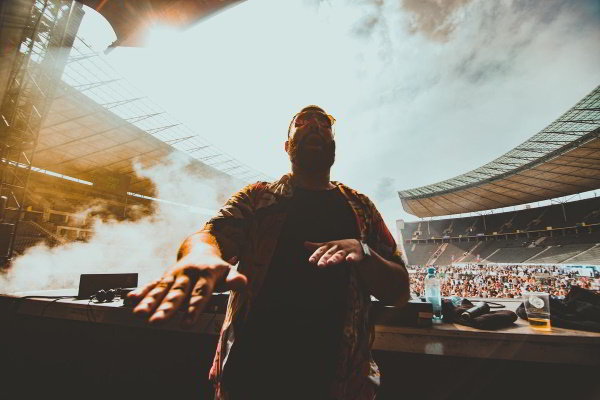 STMPD star LOOPERS kicked off 2021 in a big way with the release of "Greed" at the end of last month. Wiping his Instagram clean ahead of the release, it's an exciting signal of the fresh fire that LOOPERS has heading our way this year. With the promise to take fans on a journey this year, get ready for groovy originals and experimental tracks, all with a touch of the signature LOOPERS sounds. To celebrate, he's crafted an Exclusive Mix packed with the biggest and baddest from house to techno, bass house to tech house! Turn it up to hear tunes from Boris Brejcha, CID, Curbi, Malaa, Martin Ikin, and so many more!
LOOPERS, thanks for joining us to celebrate "Greed"! Ahead of the release you completely cleaned your Instagram feed. What was your mindset heading into the release and what made "Greed" the right track to start the year?
I think these unprecedented times made me want to start my page with a clean sheet. I am about to take my fans on a journey with the songs I'm going to release this year. You will see a side from me that is more experimental and not always club focused as the LOOPERS sound has been familiar with.
Take us through the production process – how'd you go from initial inspiration to the final production that we hear today?
It really always starts with a chord or bass progression to form the vibe of the song. From there I just create what intuitively feels right I suppose. At the end it's all a vibration that just needs to feel right. When I have an initial idea, I let it rest for a few days and then I come back to it with fresh ears.
What are the sounds that LOOPERS stands for in 2021? How does "Greed" pave the way for your forthcoming releases on STMPD this year?
I want to express more my groovy, but still banging sound. With hints of techno and deep house. I love the way I feel in the studio now, it has become a new kind of mantra that also results in new music. In the end it remains my own familiar sound, and I'm happy that my fans appreciate this from me, it's a kind of freedom that every artist should be happy with.
As a DJ, how has the lack of live shows affected your personal taste in tracks? How does your Exclusive Mix compare to what you may play out at a live show currently?
I like to play more groovy sets lately and bring the listener on a musical journey instead of constantly being in the need to hype the crowd and play banger after banger. In the sense of taste, not much has changed. Good music stays good music.
Looking closer at your Exclusive Mix, can you please highlight three artists included and why they stand out to you?
1. Martin Ikin – Superb mix, great themes, amazing groove. Real legend.
2. Boris Brejcha – Very original arrangements in his songs, great mixdown, and plays only his own tunes in a set. 
3. ZHU – Strong themes, really sets a vibe.
STMPD has become such a great home for you and your music. Can you talk some more about your growth with the label from releasing "Blaze It Up" to collaborating with Martin to where we are today?
Releasing on STMPD has been an organic process for me. The label has always been open to my new sounds and didn't push me in a certain direction. I started releasing there in 2016 and it's been great what platform the label has created for young aspiring producers. What I said about appreciating the freedom that I get from my fans, it's the same with STMPD. In this kind of way we can all thrive towards not only success, but also happiness – this is key.
How have you adjusted to everyday life during the pandemic? Do you have any insights into how to remain positive and creative?
Haaa, not much has changed except I'm not touring right now. I have more time to dive deeper into subjects that I'm interested in besides music so that's a good thing I suppose. Life can get repetitive sometimes, but we just need to make the best out of it.
And as we look ahead, how are you keeping yourself motivated and on track? How have you adjusted your goals for the LOOPERS project?
I just want to release as many tunes as possible this year. Try different sounds and surprise my listeners. I don't want to be a repetitive artist. I'm always looking for that edge. Maybe it's more safe to say that we are releasing music that we love, and are very eager to see what kinds of goals we can list as targets for the years to come.