Eefje de Visser On "Zwarte Zon" & More!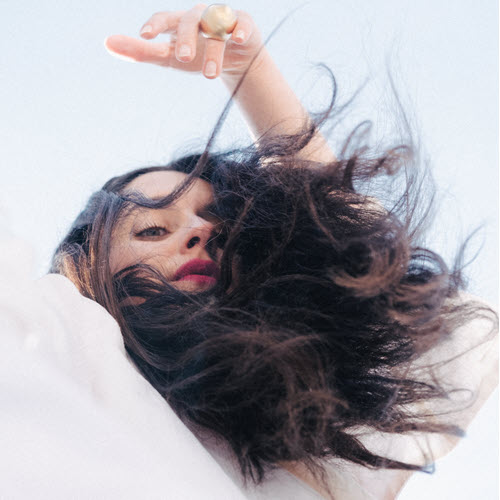 We're joined today by Dutch artist Eefje de Visser, who tells the awesome story behind her major track "Zwarte Zon." It's a song where all of the right pieces fell together perfectly, and it's now being brought back in a different way through Joe Goddard's brand new remix. Read on for a closer look into Eefje's life as she shares the inside scoop behind "Zwarte Zon" and much more! 
Hey Eefje, thanks for joining us today! Take us all the way back to the start – what made you want to pursue a career in music, and what was it like starting out for you? 
I come from a very musical family, so music has interested me since I was little – it feels normal and natural to me. When I was younger I wanted to be a composer/songwriter, more than a singer and performer. That started to change when I started experimenting with the Dutch language in my songs. Finding a good, and original, specific style as a lyric-writer, and being able to use my own language in an honest and interesting way made me want to sing my own songs for an audience and record records as a solo artist. I was around 23 by then. I was 11 when I wrote my first songs (all of them in English), so I had lots and lots of years of practice before I became a performing/recording-artist. 
What has the evolution of your career been like through your eyes? What have been some of your milestone moments along the way in your journey as an artist so far?
It started when I won a famous music prize in the Netherlands in 2009. That's when I met my former manager and finally started working on my debut album. Releasing a record and being able to do shows at the big festivals in 2011 had a big impact on me. I had formed a great band, and felt very proud and privileged that the debut was a success. That feeling really never went away. With every record I released I was able to put a step forward, reaching a bigger audience, playing at bigger venues, learning and evolving as a musician. It went very gradually, until the release of my fourth and last album Bitterzoet in january 2020. That was a big breakthrough for me. It took four years for me to make it, I formed a new band and team around me, worked on videos, artworks, and a more visual liveshow, and I'm super happy with the overwhelming response it has gotten. It won seven awards in Belgium and the Netherlands, and we are doing our first tour abroad in 2022.
What have been some of your musical highlights from this year so far? 
Right now I'm very much into Julia Jacklin, Mormor, and Westerman. All artists who released before this year, but who I love so much, and are my most recent discoveries. 
Can you tell us the story about how "Zwarte Zon" came to life? What was the production process like for this track?
I recorded a crappy idea I made with my mother's 90s keyboard when I was at her place. It was just the melodic marimba-hook with some chords that I recorded on my phone. When I was home I sampled it, put a simple Garageband-beat with it, and finished the demo of the song on my laptop. First a vocal melody in English gibberish (as usual), then the piano chords and vocal arrangements. I wanted to compose something simple and concise, because I tended to make complex chord-progressions and melodies, which ironically was becoming something very easy and predictable for me to do. So I was searching for a new way of songwriting, and I had a few versions before it came to the song it is now, and then came the Dutch lyrics. My husband Pieterjan Coppejans and I finished the production in his studio (which was also our home). I made arrangements and played instruments, he recorded all of it, searched for interesting sounds and effects, and we edited the drums, programming extra sounds here and there and leaving out the unnecessary stuff. Some of the Garageband sounds are still in there, it just worked so well, we searched but found nothing that could replace its feel and would make it better. A producing friend of ours, Dijf Sanders, also came around and added some very nice (I believe Yamaha DX7) synth sounds that I love very much. During the making we listened to the demo a lot, we tried to stay close to the attitude of that first idea. At the very end of the process I sang all of the vocal ad libs that are in the song, and its harmonies, put lots of delay on them, and then Pieterjan mixed the whole track and the song was finished.
"Zwarte Zon" has a really cool music video to pair with the track. Can you tell us about the inspiration behind this video? 
Thank you, it was actually a test case, because I wanted to try and direct videos, but had little to no experience. Nevertheless, I always have a lot of ideas for images and videos, so I gave it a shot. We worked with a bunch of friends, one who is a photographer who's also filming, a few girls I know who are good dancers, a friend that is an art-director, etc. The location is the house of my friends in the Netherlands, which is where I recorded and made a big part of my third album
Nachtlicht
, and where I spent many days and nights hanging out, sleeping over, and where we had some great parties with the people who live there and all of their friends coming over. The memories of those nights were an inspiration for me. I think I wanted to make something kind of freeing, confident, warm, a little dark, but also joyful within that, since that place had been a safe space for me in a difficult time in my life. We actually improvised a lot that day, everyone had some ideas, I had made a moodboard of images, colours and decor that I loved, and from there we had a long day of shooting, dancing, trying out things. Since then I've learned a lot, and I probably would do things differently now, but I am still happy with the result, and the good memories I have of the place, and the process of making it. 
"Zwarte Zon" also has a brand new remix out from Joe Goddard! How did Joe come to remix the track, and what do you like about his take?
It was actually Pieterjan who one day just sent Joe a request for this on Instagram, I didn't even know he was going to do that. We are both fans of Joe's work, so we were super excited that he responded and liked "Zwarte Zon." From then on we stayed in touch and he made the remix. I like what he did with the steel drum-sounds. They are a bit hidden in the original track, but he picked them out, kind of scrambled them, and used that as the main hook. Also, he changed all of the chords and gave the vocal melody a new harmonic twist with that, which I love. And last but not least, the build up, the tension and the tropical vibe it has. 
Do you have any other new music in the pipeline that you can tell us about?
Not yet! But there are lots of inspiration, drafts and demos ready to be worked out. More about that in the next year, because this year we're having a baby, I'm now 6 months pregnant. 
And lastly, how does the remainder of 2021 look for you? What has you most excited for the months ahead?
We have already had a good year I have to say. There were some Corona-proof concerts that were great and a big joy and relief for us to do. I did a collaboration with a Dutch visual artist who makes light installation art, Nick Verstand, who also worked with Iris van Herpen (fashion designer) and Bjork (no explanation needed ;), so I'm honored that we did a project together. We released two new songs, "Storm" and "Golven" (Waves), and went to France to make videos for those songs on super 8-film. Joe Goddard remixed "Zwarte Zon," and if everything is going as planned, we will be playing at Pukkelpop (Belgium) and Lowlands (Netherlands) this summer. After that I'm taking a break, because we're having a baby, and in spring 2022 we will finally be doing our big Bitterzoet Clubtour. I'm very much looking forward to that.