Skytech's 'Wild Love' Spotlight Mix & Interview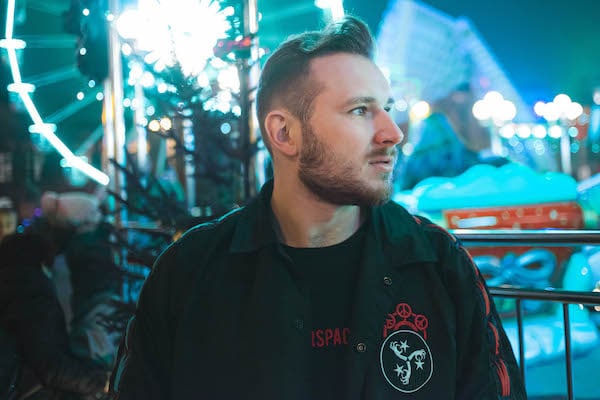 Today Skytech steps into the 1001Tracklists Spotlight to celebrate his debut release on Future House Music! "Wild Love" is an exciting collaboration with the iconic Polish dance music figure DJ Angelo, and renowned singer/songwriter Aleesia, that draws on many genres for an energy filled, tech influenced banger. To celebrate, Skytech's crafted his mix with his top tunes of the moment featuring a diverse selection from ARTBAT to ACRAZE, GUZ to David Guetta, and BYOR to MORTEN. Turn it up and let's go! 
Mateusz, thanks for joining us to celebrate the release of "Wild Love"! It's a big collaboration with DJ Angelo and Aleesia. What brought you three together to work on "Wild Love," and what made it the right track for a collaboration?
Thanks for having me! The whole thing started by a remix request. Angelo hit me up to make a remix of his new track with Aleesia, that he produced to celebrate 30 years of his DJ career. I picked up the stems and turned the song to a completely new thing. That's why we all decided to release this as an original together. I was very happy to join forces with Angelo and Aleesia, they both are heroes in their domains. Angelo has had a huge DJ career in Poland, whereas Aleesia is known for her multiple great songs including "Gold Skies" with Martin Garrix, Sander van Doorn and DVBBS. 
The new version of "Wild Love" shifted from a nice, summerish song into a raw banger with a lot of tech influence. I feel like I added a lot of my spice there, and I'm really happy to work with the Future House Music team on this release!
Reflecting for a moment, what effect did the pandemic have on you as both a DJ and producer? 
The pandemic hit me pretty bad. Not only did all of the shows get cancelled, but I also had a bit of health problems. Anyway, I want to look beyond that already. All in all I think it was an important experience and a lesson. It definitely made me look for new stuff in music and made my love for music a lot stronger. I realised what it is about music that is so appealing to me, and fostered my will to grow as an artist. 
How do you think your sound has evolved during that period and what are the key elements Skytech stands for moving forward into 2022 and beyond?
Skytech has always been about the dancefloor energy, but with a little bit of melodic magic. I feel like I have a clearer vision of what that means now, and you will hear the results soon!
One of your summer highlights surely was seeing Tiësto drop your remix of "Don't Be Shy" at the F1 race in Holland and at Creamfields. Did you have any idea that he was going to support the track? What was your reaction like when you found out he played the remix?
Well first off, shoutout to DJ Kuba & Neitan for joining forces with me on that one. I definitely knew that the original song "Don't Be Shy" was a hit. Back in July, me and DJ Kuba & Neitan released this song called "Like a Melody" on Spinnin' Records which also got huge support from Tiësto. We thought – how about we make a version of "Don't Be Shy," that contains the flavour of "Like a Melody." 
Kuba received the acappella from Tiësto and off we went. I think after two to three days the remix was ready, we sent it out, he loved it, started to play it and the rest is history. It was incredible to see him spin the remix at all of these fantastic festivals and occasions. I'm very thankful for all of the support, right now you can also grab the remix and listen to it, as we have recently posted it on our socials. 
Looking closer at some more highlight music, can you pick three tracks included in your Spotlight Mix and tell us why they stand out?
For sure, my current favourite track is "Flames" by ARTBAT. The song hits me right in the feels, the beauty of the melodies, the mysteriousness, the excitement are all on the highest levels with this one.
If you're into groovy music, you will definitely love the Wh0 remix of my DJ Kuba & Neitan collab called "Dancing." The groove is just so infectious with this one. I really love it.
Last but not least, my new release with Future House Music, "Wild Love." What I specifically love about this song is how it connects influences from many different genres. There's a techy beat, some nice mysterious melodies and a little bit of EDM energy. It makes it stand out from other songs, which makes me like it a lot.
We've seen on your Instagram that you've excitedly returned to live shows in Poland over the summer! What has it felt like to be back on stage again?
I've been lucky to play some incredible shows lately. I see this huge hunger for a good party, wherever I go. It feels like electronic music is coming back after a slower moment, and I'm hoping it will keep getting better. All of us – DJs and producers – need to step it up and make fresh sounds to attract crowds to clubs and festivals like a couple of years ago. 
Can you highlight one of your recent shows and what made it particularly special to you?
I played at a university show in Krakow. Believe it or not, the crowd went nuts for every single drop that I played, including all of my new songs which felt double special. I felt very happy about how this show turned out, especially since I performed in between two Polish rap acts. Prior to the show I was afraid everybody was going to leave for a drink when I started, but actually the opposite happened. They stayed and they went crazy to the electronic rhythms! 
And as we look ahead, what's keeping you excited and motivated on a daily basis? What are some long term goals that you've got in mind?
Like I mentioned before, my love for music is now rediscovered. I feel like there's a lot of great stuff about to happen in the scene, and I'll do my best to be a part of that. I try to work really hard on the next steps. My main motivation is this drive to make new sounds, new songs, and get excited about them. I'm already looking forward to the summer of 2022 to play some open air shows filled with lots and lots of new music.
Skytech & DJ Angelo ft. Aleesia - "Wild Love" is available to dowload/stream on your platform of choice today: https://fhm.lnk.to/WildLove