Fedde Le Grand At Ultra Music Festival 2017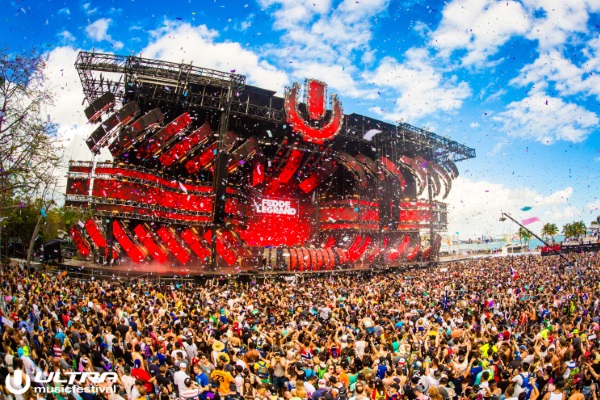 On Sunday during day three of Ultra Music Festival, Fedde Le Grand took to the mainstage for another of his signature performances. A staple of the Ultra Music Festival family, he delivered a huge set packed with loads of new music. We caught up with Fedde to discuss his Ultra experience this year and focused in on his opening track, "Dancing Together," which was just released last Friday and marks the start of his partnership with Armada Music and his label, Darklight Recordings.
You've really become engrained in the Ultra family, representing the brand at their festivals worldwide and having one of the longest streaks of continuous appearances at Ultra Music Festival in Miami. What sets Ultra events apart to you?
I think the fact that Ultra is the first festival to be present in so many territories, in every continent actually after their latest announcement, which is just crazy. It makes the whole organization more and more into a global family. I think that in essence is what dance music is all about and having done this for so long it really appeals to me personally, knowing people and meeting the same people all across the globe while building towards the same goals and from the same love for music is everything to me.
What was your mindset like heading into your set this year?
Great! Can't really add anything to it :) I'm in a very happy place at the moment, bursting with creativity, absolutely massive records lined up, loving the 'everything goes' climate in the industry and feeling massively supported by some of the new partners me and my team will start working with. I'm feeling on the course of greatness :)  
Can you talk a little bit about opening your set up with your upcoming release "Dancing Together"? What makes that track a good intro track?
I love the housey vibe of the record. I think it's the perfect release for me to mark the first of all to come this year. The vocal lays down a more old school vibe with the message being more relevant now than ever. In the end it's what touring the whole world comes down to, people of all nations dancing together...
You again dropped one of your hotly anticipated tracks, your D.O.D collab "Love's Gonna Get You" – can you talk to us a little about the reception to that track and any details on a potential release?
This will actually be the second release coming up, after "Dancing Together." More details will be announced shortly. I'm very excited about the record for sure and think it makes for a nice summer vibe!
You included a lot of slick mashups, some staples in your sets and some brand new. Can you pick one out that you think worked really well in your set and tell us why?
I think I'll have to go with my Lukas Graham edit because I think he's just got an amazing voice and still feel the "7 Years" record is absolutely brilliant.
And you closed your set with your brand new Dannic collab – what was it like premiering that track?
That was something special for sure!! I love the vocal by Coco Star which actually has an amazing history to it. I don't want to go into too much detail here just yet, but I think the record is gonna do really well and I feel it's a perfect combination on all ends.
Looking ahead, the release of "Dancing Together" marks your first release with Armada Music and the announcement of your partnership with Armada for your label Darklight Recordings. Can you talk to us about your plans for the label this year and what excites you about this new chapter for Darklight Recordings?
Pff where do I begin?! For me it's all about positivity and I think Armada is the absolute perfect partner for Darklight Recordings. Obviously we'll start building on new talent releases again, but I've also got a few more amazing records of my own in the pipeline – some closer to home, but a few more out-of-the-box things even for me. Ha. I'm really trying not to spill too many beans as I've just got so much cool stuff coming up!! We'll be back shortly….