SJRM: Miami Recap
From their music to their fashion sense to their overall vibes, Sunnery James & Ryan Marciano are meant for Miami and we were excited to catch up with them there again this year. We sat down with the guys on Saturday afternoon prior to their set at Ultra Music Festival after just catching them at Kryder & Tom Staar's CARTEL event Friday night where the Dutch duo were the special guests and rocked Heart Nightclub. With their own ID productions, the progression of their new label SONO Music, and of course their iconic Sexy By Nature pool party, there was lots to talk about.

Your Sexy By Nature event this year – another sold out event, and it was rocking – we were so sad to see the rain come at the end though…
Sunnery
: Everybody's talking about it though because it ended on a peak with everyone wanting more.
Ryan
: For us it didn't end on a peak though…
Sunnery
: Yeah I was so angry actually. We were ready to just go off and go all the way and then the rain comes and all the lightning. It surprised me the fire marshall didn't come in earlier, I think they must've been enjoying it too.
And wow, what a night last night (Friday night) at the Cartel part at Heart where you guys were the special guests [full set + tracklist]. What's your relationship like with the bosses of that label, Kryder & Tom Staar?
Sunnery
: We've known Chris [Kryder] for a long time already starting from when he was a promoter in England and he always threw these quality parties. He's an amazing DJ now by the way. We had a lot of contact, but we never really spoke about a collab or anything like that. We just did the same thing, sort of on a different level and now we've come to a point where the scene is ready for a new movement so we try to join forces now and push things in the right direction. Sexy By Nature meets Cartel!
Ryan
: The guys are very similar to us – they really love the music. They don't want to be the biggest of the biggest, they do it for the music.
Sunnery
: We probably can do a bit more big room and mainstream. We combine progressive, tribal, and more in our mixing which can be difficult, but it's how we bring our sound to the mainstream.
With that idea in mind, how do you guys approach your set tonight at Ultra, which is a nice slot at 7pm on the Worldwide stage.
Sunnery
: We only have one hour, which is really short for us. We have to see, probably short mixes, really fast, and try and play everything. A one hour set for us is really just a showcase – you can't tell a story. Some new music and some old music, that if you don't play the fans will kill us after the set.
We're sure "Karussell" is one of those tracks?!
Sunnery: "Karussell," obviously. "Horny Bounce." And we have some new stuff too like "Drums Of Tobago."
Ryan
: It's also that we have to go in and feel the crowd. We can't really tell yet exactly what to do.
Sunnery
: Yeah, it's in our heads, but when we look at the crowd then we will know which way to go.
Can you tell us about any ID tracks you may include?
Sunnery
: Yes, we played a lot of ID tracks yesterday! Two tracks we've been playing in the beginning of our sets recently, we made on the plane! And they sound really fat actually.
Have these tracks been tested on a festival stage yet?
Sunnery
: We will see today when we play them! If it sounds too small, then we will have to mix really fast haha.
Ryan
: They are true ID tracks, we don't even have a name for them yet. It's really fresh.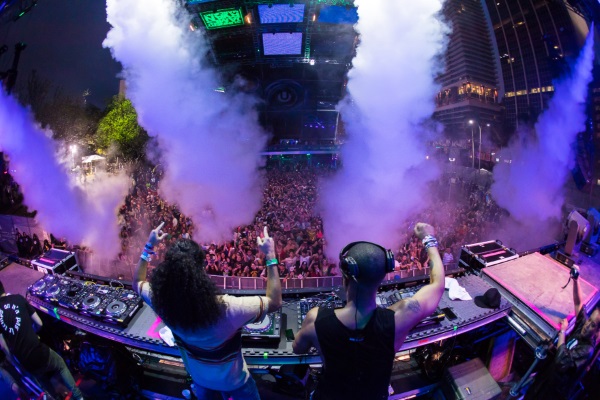 You mentioned that there is some music from your label that you guys need to showcase. Can you mention any names?
Sunnery
: Yeah we have a russian guy named Novak. He has a track coming out on the label soon called "El Verano." Thomas Newson is going to release on our label as well! He is a really talented producer and a really nice kid. He fits really well, we are like friends almost now.
Ryan
: Yeah,
almost
like friends now.
Sunnery
: No, no, but we've only know him for like a year and a half now.
Ryan
: Yeah his name is "Newson." If it was "Oldson" then we're friends. [
laughs
]
Any big collabs in the works for you guys, following up on the massive Eddie Thoneick collab?
Sunnery
: Well, we are working on something with Sander van Doorn again. We've been talking about it, but not really started. Really, we are going to focus on our own releases first. Hopefully a collab with a Swede really soon as well…
We're always sorting through all different genres on the site, and listening to your set last night we thought of a new one! What do you think about calling some of your music from last night "Pumping Techno."
Ryan
: That's a good name!
Sunnery
: Oh, I like that! Pumping techno.
Ryan
: That's good because everyone always tells us that we play techno. And we are just like, no, we don't play techno. It is though almost exactly what you said, pumping techno.
Sunnery
: I think it nicely reflects our mix, we will choose a techno track, and then mix it with a tribal track, and then go into something deeper or techno, so it's mixed. Big drops, but still keeping it tech-y.