Breaking Boundaries: Alexso
DJ and producer Alexso has been a mainstay in the Chinese dance music scene for quite some time, and in 2021 his music has been taking off internationally. He's been receiving support from the likes of Dimitri Vegas & Like Mike, Showtek, and many other top artists, and he joins us to discuss his momentum and more! 
Can you please introduce yourself and tell us about your journey as an artist so far? 
I'm a music producer and DJ from China, and I started playing music in clubs in 1997. In 2002, I began to make my own electro music. In 2014, I founded Echo Stage Records, an electronic music label. In 2018, I got highly praised by Alan Walker at the first electronic music variety show "Rave Now" in China. In 2020 was a TEDx speaker, had a guest performance on China Central Television (CCTV), and was a final judge at the IDJ Global China DJ Mixing Competition. 
When did you decide to pursue a career in music and what made you want to go down this path? 
I have been working as a DJ for 24 years, which is also my first job. I keep doing it because I love music. In 2013, EDM became popular all over the world, and it broke national boundaries. In recent years, I have made a lot of achievements in electronic music in China, and will focus on the globalization of my music.
You've already received support from the likes of Dimitri Vegas & Like Mike, Showtek, and other top artists. What does the support from these artists mean to you? 
The support and recognition from these internationally renowned DJs is very encouraging, which makes me more confident to persist in making better music for my fans and more determined to develop Chinese electronic music internationally.
Can you tell us about your upcoming release on Gemstone? What does it mean to you to join the Revealed family? 
The new single "About You," which I collaborated on with Lost Capital, is our first transnational collaboration. It has a returning house rhythm and a futuristic vocal. I believe fans will definitely like it. Joining the Revealed family also marks a major step forward in the globalization of my music career, and I believe that I will be able to present more of my music and ideas to this community.
We also hear that you have an upcoming collaboration with Fatman Scoop. What can you tell us about this one? 
I can't spoil much about this new ID, but I can tell you that it is music with a strong Chinese style, and it will be released in October. I am confident that this single has a chance to become popular on dance hit lists.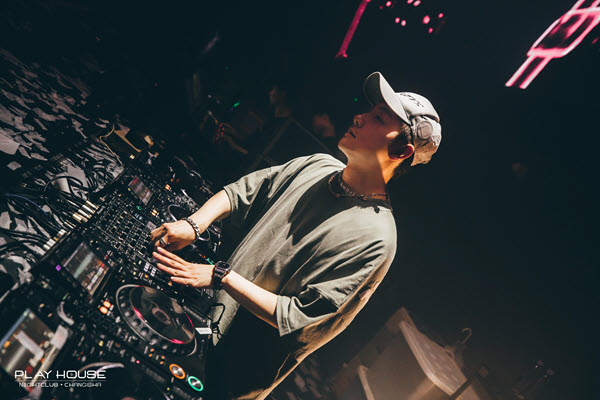 Do you have any other new music in the pipeline that you can talk about? 
In September, I will release my new work "DISRUPTION" on my own label Echo Stage Records, which is a combination of thick Chinese style and glitch hop. I also shot the music video for this track in Xi'an, which is an ancient capital city with traditional Chinese characteristics. I will continue to devote myself to the development of international electronic music with Chinese elements.
What is the scene like in China currently? How has it changed over the last few years? 
Under the situation of the global pandemic, China has controlled it very well, so it did not have a great impact on my music production and performances, but a lot of festivals were canceled. During the pandemic period of 2020-2021, the trend of electronic music in China changed greatly, and many international artists were unable to enter the Chinese market. As a result, China's pop music style began to shift to a more local and commercial style and interrupted the process of electronic music trends from 2014 to 2019 to integrate internationally.
And lastly, what goals do you have for yourself for this year and 2022?
My biggest goal this year is to hit the DJ Mag Top 1001 DJs list. No matter what the result is, I'm still going to focus on my music career. In 2022, I will shoot more music videos, so that the world will be more impressed with China's achievements and the development of Chinese electronic music.