1001Tracklists Spotlight: Neels
Today we're thrilled to bring out the debut mix from the ultra talented Neels. Known across the globe for his work as a model and entrepreneur, including with Vogue and The Financial Times, he's been performing at private events for the past few years for some of the largest names in fashion. With electronic music ingrained in his blood from a young age, it was just a matter of time until he pursued music full time. With his debut gig at Marquee in NYC under his belt earlier this month and with an EP on the way, there was no better time to celebrate with his Spotlight Mix. Turn it up for his big house beats and take a deeper look into this exciting chapter in his career in our interview.
Neels, thanks for joining us today. You are about to start a really exciting chapter of your career! Take us back a bit – how long have you been into electronic music, and how long have you had the dream to pursue being a DJ/producer full time?
I was first introduced to dance music in 3rd grade when I stumbled upon festival aftermovies and docu-series from artists like deadmau5 and Swedish House Mafia. The concept of traveling the world to play music seemed so cool to me, so after that I was inspired to figure out how to do it. I saved up money to buy equipment and by high school I was taking production classes I had found through Craigslist. After dropping out of high school at 16 to pursue entrepreneurship, I also took online classes at ICON Collective in 2017, so it's been a long time coming. 
What makes now the right time to get the project going fully? Tell us some more about the stars aligning.
After years of exploring the entertainment industry from a talent and entrepreneurial perspective, I realized that I needed to pull the trigger and just jump into it. I've performed at private events for the past few years for some of the largest names in fashion so It was just a matter of time before I fully committed.
Looking at your Spotlight Mix, how'd you select the tracks and approach creating a flow in the mix? What kind of sound are you going for as a DJ?
The other week I actually played at Marquee in NYC, really signaling my transition to pursuing being a DJ full time. I wanted to make the experience of this mix similar to what you heard live in that set – a taste of international sounds and progressively get harder. When I started thinking about my Spotlight Mix, I wanted to bring the same characteristics as the live set because both the crowd and I had so much fun during it. When it comes to my sound as an artist, I've been exploring it for years now and the best way I feel I can define it is: international house music. 
Can you highlight three tracks included in your Spotlight Mix and why they stand out to you?
Dom Dolla - "San Frandisco." Dom Dolla is one of my favorite up and coming guys right now I listen to his shit all the time and that song is just a slap.
PAWSA - "Groovy Cat." I like it because it's just a super unexpected classic melody that turns into a sexy house track.
Sikdope - "Snakes." I just think this song is disgusting haha. I don't know how to explain it, it's nuts.
Can you tell us some more about playing at Marquee in New York City alongside DVBBS?
It was my first time playing in a respected venue like Marquee. I started going there when I was living in New York modeling with all my friends. It was where we went to dance to house music. I was excited because I had all my friends from New York, my team and even my parents who ended up staying until I finished at 1:30am. 
Can you compare and contrast your experience being on the runway and in front of the camera as a model to being on stage in front of a crowd DJing?
From what I've experienced behind the decks in comparison to the runway, the difference is that during fashion shows, the crowd is more reserved and everyone is staring directly at you. During a DJ set everyone in the crowd is dancing and letting loose.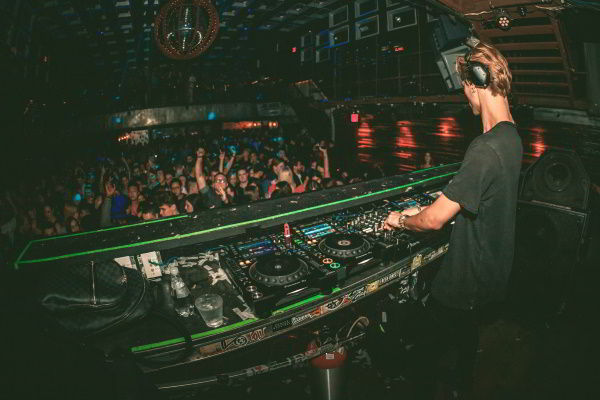 On the production front, what can you share with us about the music that you have coming?     
I have an EP I'm planning on dropping in which you'll be able to start to hear where my mind is sonically. The EP will feature sounds inspired by my travels around the world and my favorite artists. 
And as we dive deeper into 2020 and a new decade, what are some of your goals for yourself as both a DJ and producer?
Since before I can remember, my outlook on life is to forever be a student. I've always said that there is no way to have growth in comfortability so I want to always surround myself with new mentors and challenge myself to learn new things.