Shermanology's Exclusive Mix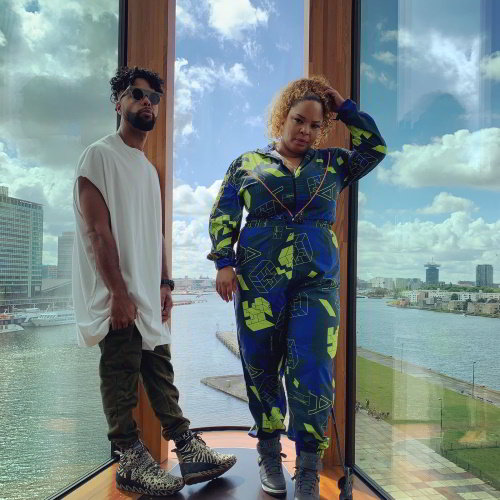 Shermanology are on a roll in 2020! With their new house sound on full display, they've been making noise with their releases on Diplo's Higher Groud imprint, Carlo Lio's Rawthentic, and most recently their Bon Bini EP on Jamie Jones's Hot Creations! To celebrate, they recorded a breathtaking Exclusive Mix live from the Hotel Jakarta in Amsterdam. Turn it up to hear fresh cuts from Gene Farris, Javi Bora and Dennis Quin, alongside loads of unreleased Shermanology tunes, and be sure to read on to discover their work with The Martinez Brothers, Jamie Jones, and more!
Dorothy, Andy, thanks so much for joining us today! We're big fans of your Higher Ground and Rawthentic releases and it's fantastic to see the support rolling in on your Hot Creations EP. Can you tell us about the sound you've created and stand behind as Shermanology this year?
The new Shermanology sound is a blend of all genres that we stand for. First of all... house. In combination with soul, funk, gospel, and also a lot of Caribbean influences. We try to make stuff outside the box. We are just having so much fun doing this sound.
With vocals we are also looking for new boundaries. We don't want to do the standard one line songs. For us it's always a challenge of how we can push the new sound, but still fit among what is going on at the moment. We have been playing with that thought for the last four years and working on a balance that works for our sound and set.
It's just so incredible to see that guys like Jamie Jones and the Martinez Brothers dig the sound. We have so much new and fun music coming out. We are super excited!
Focusing in on the Bon Bini EP, what do you feel is the unifying theme across the tracks? Tell us a bit more about some of the influences that shine through in each of the tracks.
The unifying themes are the vocals, basslines and uplifting vibes. With this EP we wanted to show the wide spectrum of the new Shermanology sound. "Ok - Cool" is laid back and funky, "Breathe" has more of rolling tech vibe, and then "Bon Bini" is the peak time track.
That diversity is something that we are really focusing on. Not all tracks have to be peak time tunes. We really enjoy making more musical stuff. But we also like the bangers. Just like how we build up a live set – that's how we want to make music this year. The Bon Bini EP is the first example of how we want to combine everything that we stand for.
What does releasing on Hot Creations and having the support of Jamie Jones mean to you? Does the moment hold any more significance to you in the zoomed out context of your careers thinking of how Hot Creations stands on the opposite side of the spectrum of labels from say a Revealed or Spinnin'?
We have always been house & techno heads. Been making this sound for years. Maybe we should post the original version of "Blessed." It was a deep house track :) When going out, we always go to see DJs like Loco Dice, Carl Cox and more of the deeper funky stuff. One rule though, it has to be funky. This sound that we are doing is something that we wanted to do for years and to see that Jamie accepted this new sound is a cherry on top.
When we locked ourselves up in the studio for four years, we had one thing in mind. And that is to make music without boundaries. We said let's just make music without thinking about the future. Just do what feels good… so when jamie emailed us back saying that he loved the tunes, we were shocked and just super grateful.
We will always appreciate everything that other labels have done for us in the past. This whole new sound was developed by every step we made along the way. Every gig or song contributed to that.
Talk to us some more about your relationship with The Martinez Brothers. Any news on an official release of "BAM BAM"? 
As we started this whole new sound, we knew that we had to start from the bottom. So we had to put all ego aside and walk the same path as a beginner.
We saw this Splice remix contest from The Martinez Brothers with a prize where you could win a collab and a Skype session. When we got the parts, we said let's do something different and write a whole new track around it. When we submitted our version, The Martinez Brothers hit us up saying how much they loved it.
After that we did our Skype session for like two hours on what was supposed to be a 30 minute call. We had such a vibe, felt like we'd known them for years. From that point they also signed another track "Gibberish" that will come out next year and we are working on an EP for Cutting Headz that will be out sometime next year. 
But first things first… at the moment we are just waiting for the right timing to release "BAM BAM" with The Martinez Brothers. Think it will be somewhere at the end of the year!
Looking deeper into your Exclusive Mix, can you highlight three tracks or artists included and why they stand out to you?
One of the artists we really dig is Luuk van dijk. Played his track "Revolution." Love how he brings that UK vibe in his sets. Saw him at Elrow back to back with Joey Daniels last year, and wow they broke down the house!
Gene Farris & ATFC - "Spirit Of House." The energy of this track is out of this world... when two legends collab this is what you get! And to all the music geeks…check out the mix on that song. 
Dennis Quin. We did a garage version of our collab with him. He is one of the guys that we really enjoy working with. We always go all out to get a good final result. And by the way, new EP with Dennis dropping on MK's label Area 10 in the beginning of 2021!
While shows are currently on hold due to COVID, let's reminisce a bit. What's your all-time favorite performance, and what made it so special?
Think one we will never forget is a club called the Arches in Glasgow. Never ever have we experienced a crowd like that. So good! Everyone was sweating, it was HOT, but there was a vibe from beginning till the end. The security would give everyone water because the people just wanted to dance, they were not even thinking about going to the bar. And they would sing along with every song. A night to remember for sure! And the whole night the crowd would scream "here we, here we, here we f*cking go"  – loved every minute of it!
And what would be a dream gig of yours in the future?
Think that would be a Paradise night in ibiza. Jamie… call me… +316…. :)
Speaking of COVID, how have you been handling this period? What have been some of your highlights during this time?
You know COVID is hard on all of us, but we decided to make it something a little bit positive (as far as that is possible). We noticed that because of COVID a lot of DJs would have more time to check demos, etc., so we set out to make so much new music and send it out to all of the people we wanted to work with. Because of this we have so much coming out! 
We see a lot of artists holding back songs and not releasing because there is no club scene. We respect that, but we think it's important that you will get out of this situation stronger. That's why we chose to keep on releasing in this weird time we live in.
With that attitude in mind, do you have any advice for other artists out there?
Our advice is to keep on grinding guys. Don't get discouraged. We all have a lot of free time at the moment. Invest your time in developing yourself in any aspect – musically, mentally or spiritually. Let's grow together!
Anything else you'd like to share?
Yeah, that we are just very grateful with everything that is happening musically and want to thank all of the fans and DJs who have supported us over these years. Our next release is an EP with our French homie Tim Baresko on Superfett.
And watch out for our own event called "D'eaupe." We will be launching that soon. So y'all can hear, feel and see what this new vibe is all about.