The Aston Shuffle Discuss Their Friday Night Triple J Mixes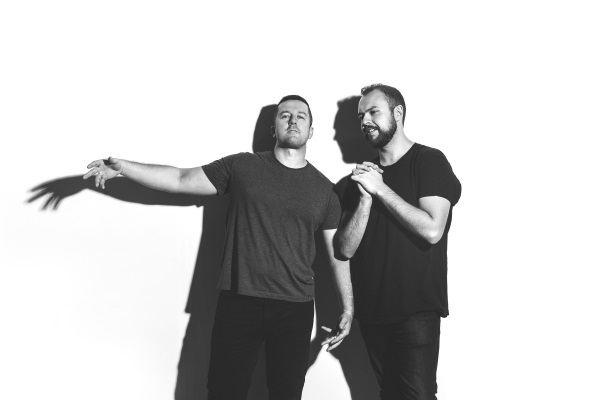 Each week Mikah and Vance aka The Aston Shuffle are tasked with creating a three hour radio show packed with new music. Their Friday Night Shuffle show is broadcasted nationally on triple j in Australia every Friday night from 10pm - 1am. The stream of the previous week's show is also available internationally for the following week. As the tracklists for their shows are now coming onto the site, we took some time to talk to Mikah and Vance about the show's creation and evolution. Enjoy the latest mix here while you read the story behind the mixes. 
Getting Started on the Friday Night Shuffle Mixes
Vance
: I think it's our sixth year. triple j had supported our music in a really big way and we had a little bit of profile in Australia as up and coming at the time they hit us up about doing the show. They were looking to pick someone else to do the friday night show starting at the end of the year. It was a two hour show and we would have some flexiblity on the show format. At the time, two hours felt like a monumental task to deliver that much music on radio every week. Now though, two hours...if we only had to do a two hour show every week, we would be like, "Fuck Yes! That would be amazing."
Mikah
: We had no previous radio experience at all. I still don't think we've gotten used to our radio voices. It was pretty daunting at first, but it was such a great opportunity. triple j is kind of like Australia's Radio 1, so it's a pretty big deal over here. To have a nationally syndicated radio show as your first attempt at radio was quite daunting, but I think we really have grown into it. Curating three hours of brand new music is just something really exciting to us, keeps us on our toes, and really makes us go deeper into what scenes and genres of music are rearing their heads. It's something that we really, really love doing still to this day, six years on. It's exciting man, we've seen some genres kind of come and go pretty quickly.
Prepping for Each Episode
Vance
: For both of us it's probably one solid 9-7 workday. Purely because of the time difference, it now gets split across a couple of days. It just makes sense to stagger our work on the show. if we both sat down on the exact same day and time to work on the show, half of what I put together might be duplicated by Mikah. One of us does it a little earlier in the week and then the other is doing it a little bit later to capture some more new releases from that week. We've just honed the way we do it with time.
Selecting Tracks
Mikah
: From our point of view, we want to touch on all the genres that are currently popping. Obviously the general music listener in Australia isn't just straight into house music or straight into massive trap bangers, so we try and touch on what is popping for each genre and what new releases might have dropped that week. triple j Unearthed is also a really big thing, it's a site that curates music for unsigned artists. Flume came up through triple j Unearthed.
Vance
: Rufus Du Sol came up through them too.
Mikah
: Curating music for unsigned artists is a really big thing that triple j gets behind. Vance and I might spend a little while looking at what kind of new hot dance artists have dropped on Unearthed as well. There are definitely a few parameters we try and touch on each week.
Mikah
: Usually we get between 43-46 new songs every week.
Vance
: Yeah, the fact that it's radio plays into that as well. We are looking at dance music that triple j is playing on the main station. Because we are a specialist show we don't get playlisted, we get to pick everything ourselves, but we are looking at what they are playlisting, and who is coming through, the Unearthed guys, and who is on the cusp of getting support from the station.
Three Hour Radio Show vs. Three Hour Mixtape
Vance
: Three hours of music every week seems like a daunting
task whichever way you look at it, but basically Mikah nailed it, the thing that makes our format unique and the fact that we can actually put that amount of music together every week is that it is radio. It's not like a typical DJ podcast or mixtape. We structure it like it's radio; there's a talk break every 15 minutes so each musical segment is only 15 minutes long. You kind of need to be building the show up up using a radio skillset, like, "Hey, if you want to hear that awesome new song we mentioned at the beginning of the show, you've got to stick around because it's coming up in 15 minutes." Just doing a three hour mixtape every single week would be completely different.
Creating a Flow
Vance
: The show's from 10pm-1am.
Mikah
: At 10pm you may still have the average triple j listener tuning in, so we may play songs that have been playlisted or the music may be really up and party vibes. Then we will spotlight an EP or an album, and we have our Hotfire Tune of the Week, which is usually placed in the first hour. We are very much house heads and love deeper techno records so near the end of the show, maybe in the last hour we will go a little bit deeper and more left of center. We usually we break things down into 15 minute segments. 15 minutes of deeper, housier vibes or 15 minutes of kind of bangers. It's kind of good having those time slots to touch on something that is happening.
Track of the Week
Vance
: It kind of just comes together I guess. Sometimes you just know what it's going to be, sometimes you have to hone in a little bit and have a bit of discussion. There may be a new song that just dropped and we love, but you know it'll be added and huge on rotation on triple j a so it's already got a platform. We have the Hotfire Tune of the Week, which is the centerpiece avenue to give a track prominence in the show, but we also spotlight EPs or albums when we want to be playing three or four tracks from a release across an entire show. That's another avenue of giving something prominence. So why give a track from an album or EP spotlight the Hotfire Tune. The absolute best track we might feel that week may be a techno record that we can only really play at 12:30. So if we are being honest and my personal favorite song of the week is a techno track, it can't be the Hotfire track because that track plays at 10:30 and people can't transition to techno that quickly on the show. So we'd find another way to give the track prominence later when it fits the format a little bit more.