Jenia x Mr.Styles Exclusive Mix
Gearing up for an exciting summer and the release of "Stories" on Buce Records at the end of this month, Jenia x Mr.Styles deliver an outstanding Exclusive Mix & Story. The duo masterfully crafted their mix to take listeners on a journey, selecting some of their top tracks at the moment and of course giving some hot new IDs a spin. Groove away as you enjoy an inside look into the work behind "Stories," the duo's chemistry and the empowering effect of Guaba Beach Bar, one of the top clubs in the world where they are the resident DJs.
How did you approach your Exclusive Mix?
We've got some exciting tracks for the mix – we really think people will enjoy listening. This set we did in the studio and we treated the mix like a production. We didn't just take 10 tracks and line them up 1...2...3...etc. We like to touch them and we like to mess with them so it's something different.
Can you highlight three tracks within your mix and why they stand out to you?
There is the edit of "Stories" from Dimitri Vangelis & Wyman which is something we never thought could sound the way it does!
The first track, "Mistakes" by CYA, highlights both a lot of the music of past years and music of today. It's a good example of the production level that we want to hear producers make.
Track 12, a massive ID from Regilio, stands out because this producer has a completely different approach on the structure of a track without being too experimental or too "out there." His way of putting things together, the way he plays with drops and breaks and when things go in and come out, is very unique.
Let's talk some of your upcoming music – what have you guys been working on?
We like to work on a few specific tracks at a time, make sure they're done right, and then put them out there.
We've got "Stories" coming out at the end of April on Buce Records which is a track we really love and have put a lot of work into. The track has been through an odyssey of masters, final versions (I think we had like 6 final versions, all very different between them) and indecisiveness until it surely ended up with DV&W's label. We're really excited for the release, the guys worked with us, and we know them personally which helps and we are going to have a very nice, different style of marketing for the track.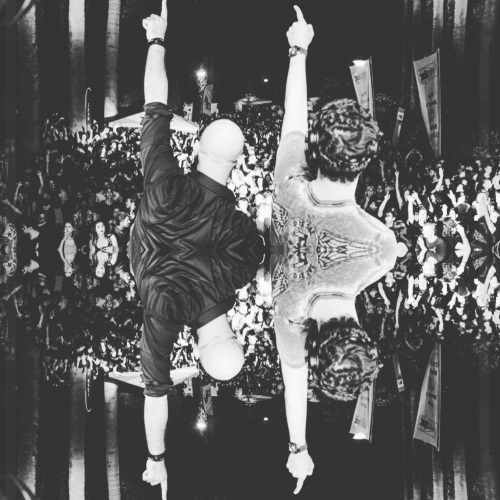 What are some of your plans for this summer?
A few shows in Sweden, a few shows in Greece (obviously), and we have a couple of shows in Guaba – two big shows, a couple of Sundays. We are going to do our own party one day, it's a small thing that we do just on the beach which is more intimate, and is closer to the mentality that we've learned and love about Guaba. Guaba is a family thing, it's not a massive venue with screens and lights and fires, and oh pay 50 euros to see someone who you can't really see because he's so far. The DJ booth in Guaba is basically in the middle of everyone. It's that kind of intimacy that we want, so that's the kind of show we are doing.
That's a nice segway for us, how do you feel Guaba has influenced your performances as DJs?
Performance wise, the way Guaba is set up, it makes your relationship with the crowd grow and be constant. The exchange of energy is massive. The people are there for the experience, whether it is Martin Garrix or a no name, it doesn't matter. People are there for the experience and they love it when the artist gives them a good show. They don't judge if you're big or small or if your style is too hard or too slow. If you're giving them something good, they love it, and they give back to you. You really want to make them happy and that stays with you. You see how good it is, and every time you go play you want to give that. You want to receive that energy back, and you want people to leave and say, "Damnit, I had a great time!"
For the way we perform, it motivated us a lot to become better DJs and performers. We both have our own energy going on, which is something people usually talk about, "Oh Styles' dance moves and Jenia's style in the booth" or something like that. We've grown to be self-confident in who we are and embrace it even more!
What do you like most about working together?
It's our chemistry. We both are all over the place and we both want 150% of the result every time. So we always get that result on the stage or in the studio. We pretty much constantly fight which is the reason why the tracks sound like they sound and the shows are the way people see them. We will always give everything we've got. Things may be similar to a marathon, but instead of choosing a pace, we try and go at a 100m pace the whole time.