B JONES Celebrates Her Massive UNTOLD Mainstage Set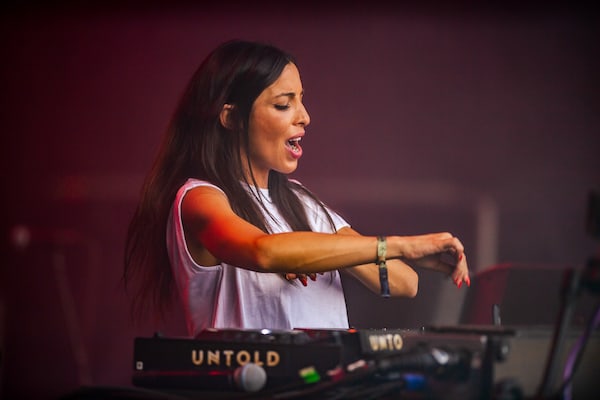 When B JONES stepped behind the decks at UNTOLD Festival a few weeks ago, it marked her first time back on a festival stage in over one and half years! Her set on the Mainstage was a joyous moment, and her set was filled with feel good melodies, vocals, and lots of house grooves. To commemorate the landmark performance, we've got the full video of her set for you, as well as an inside look from Bea at her UNTOLD experience, Ibiza residencies, hit collaboration with Kryder and much more! Turn it up, turn the smiles on, and dance away!
Bea, thanks so much for joining us to celebrate your incredible UNTOLD Festival set! What did it feel like to step back on a festival stage for the first time in over a year and a half?
Thanks for having me! There were so many emotions after more than a year without playing at a festival, nerves, gratitude and a lot of joy!
What are the sounds that B JONES stands for as a DJ in 2021? Has your sound as a DJ changed at all over the last year and half without regular live shows?
I think that I have evolved after this time, although as always, I am a lover of melodies and vocals. I think the big room sounds now are more like a club with tech and house sounds taking over the mainstage.
What was going through your head as you prepared to step on stage at UNTOLD? How did you feel once you got started into your set?
I was really focused on the set for days and with nerves, but when I got on stage the only thing I felt was happiness, or nerves. It was like flying, everything was perfect!
Looking closer at your music selection, can you highlight three tracks included in your UNTOLD set and why they stand out to you?
Kryder's remix of NERVO and Tube & Berger - "Lights Down Low," my mashup of "BEGGIN TALAMANCA LONELY" which crosses Burns x Måneskin x Justin Bieber, and then the GORDO & Shaun Frank remix of "Pepas." All three represent my favorite sounds and energy!
You've also begun playing more regularly again in Ibiza. Tell us some more about those shows and the situation on the island.
I have been lucky enough to have a residency at Ibiza Rocks with my #Daylight party together with Kryder. I have also been playing at Ushuaia with David Guetta on some Fridays and other events on the island. It's better than the previous summer, but even the restrictions in Spain do not allow dancing, so although happy, we're still wanting to see people dance again in Ibiza! 
As you mentioned, together with Kryder you had an exciting residency at Ibiza Rocks. How did that residency compare to others you've held on the island in past years? Did you have a favorite show from this year? 
The only difference with previous years is that there is no dance floor, but it has been very fun and exciting to share this residency with Kryder, since he has always been one of my references. It's too hard to pick a favorite, I enjoyed all of our sets together as well as playing with David at Ushuaia.
Your collaboration "Girlfriend" with Kryder has been absolutely crushing it on the 1001Tracklists charts as well! Tell us some more about the story behind the track and bringing your relationship to life in music.
Kryder and I met just over a year ago during lockdown. After we started dating, we found out that we shared the same passions in life with music being the biggest one. We made this track to celebrate our relationship together and our new Ibiza residency at Ibiza Rocks. The track is much more summer / chilled house as we wanted a track that we could play during the daytime at our pool and beach sessions since all of the nightclubs are closed on the island. It's become the soundtrack for our summer and we are very happy about that
And as we look ahead, what's keeping you excited and motivated on a daily basis? Are there any big dates circled on your calendar for this fall?
We still continue at a time where I feel like nothing is confirmed 100% until I'm actually on stage haha. At the moment I have a show in Dubai, and I would also like to take my Daylight party with Kryder here potentially. Possibly touring in the USA, some other offers in Europe this winter, but I'm really looking forward to having some more time again to make new music!