[Official Preview] 1001Tracklists x Spinnin' ID Sessions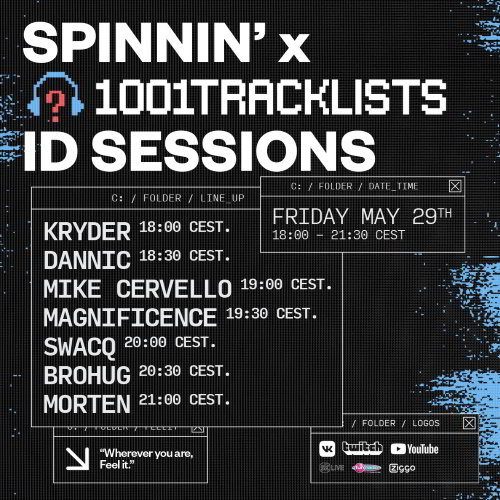 This Friday, May 29th, we are so excited to team up with Spinnin' Records to bring out the debut ID Sessions Live Stream! A concept which has been in high demand from the community promises an exclusive first look at never before heard tracks on the worldwide home of IDs.
We've assembled a lineup with some of the hottest producers at the moment, and ones whose music touches all corners of the website and are staple tracks in the biggest tracklists on the website. The event is a can't miss with many sets not available after the fact, so watching the live stream is a must for all the ID hunters out there. 
Get ready for 3.5 hours kicking off this Friday at 18:00 CEST // 12:00 EST. Each artist will play for 30 minutes and the sets will run in the following order – Kryder, Dannic, Mike Cervello, Magnificence, SWACQ, BROHUG, MORTEN. 
All sets will be streamed in their entirety on YouTube, Facebook, and Twitch. Check out our preview of each artist below, set your YouTube reminders and follow on Twitch here:
https://www.twitch.tv/1001tracklists/
Kryder
– The groovemaster Kryder has been one of the most active DJs during the quarantine period with his widely popular radio show Kryteria Radio continuning weekly, the start of his Musical Freedom Radio Residency, a consistent output of Axtone live streams and his virtual festival appearances. He's hot off the relaunch of his label Sosumi Records and between the start of the new label, his Kryteria imprint, and his own productions, we're expecting an explosive all ID set!! Get warmed up with his all ID set from the 1001Tracklists Virtual Festival here! 
Dannic
– FONK Recordings boss Dannic always brings the IDs out to play in his sets, and his groovy beats promise for can't miss sets. He's been showcasing multiple IDs in all of his DJ sets in the past month, with new tracks from his label, all star collaborations, and big originals speculated as the IDs. Get ready with his ID loaded set from the 1001Tracklists Virtual Festival here!
Mike Cervello
– Mike Cervello is on a production tear at the moment and his music is dominating the 1001Tracklists charts! His new solo release "Rotation" on Spinnin' is doing the damage and is a big follow up to his Top 10 Track and summer anthem "You Are My Life" together with Chocolate Puma. His IDs feature a diverse range of sounds from house, to acid, to the harder sounds of electronic music and we can't wait to hear what he has in store. Get warmed up with his set for us from the You Are My Life Release Party here! 
Magnificence
– Magnificence have been two of the most in demand producers since their IDs took the world by storm in Swedish House Mafia's 2018 Ultra Miami set. They've since dropped club bangers left and right, with their sound design and production prowess defining the next generation of music. In their weekly Lockdown Sessions mixes they've been showcasing a diverse array of unreleased music and with their AYOR collab "Set Me Free" out on Friday, it's going to be a celebratory set! 
SWACQ
– In the past two years, SWACQ has really blossomed, and his work together with Martin Garrix and Tiësto has set him apart from the pack. He's dropped two new remixes in the past month including one for Steve Aoki and is sitting on loads of new music including the hotly anticipated Mike Williams and Toby Green collabs as well as a multitude of solo IDs. With his new track "POW!" out Friday on Musical Freedom too, his set is sure to be explosive! Get warmed up with his set for us from the 1001Tracklists Virtual Festival here! 
BROHUG
– Perennial Top 101 Producers BROHUG are bringing 30 minutes of unreleased tracks in their mix. The trio who are known for their signature bass house sound have a host of original material to premiere. The past year has seen them grow their own label Brohouse and their set promises to be an exciting first look at some music from the imprint. This will mark BROHUG's first set of the quarantine period so get ready!!
MORTEN
– MORTEN's Future Rave sound has become the defining sound of dance music in 2020. Beginning with his massive David Guetta collaboration "Never Be Alone," the Danish star has not let up with his unique and fresh sound taking the electronic music world by storm. We'll have our ears tuned in for a glimpse at his next David Guetta collaboration as well as the new sounds of Future Rave! Get ready with MORTEN's set from the 1001Tracklists Virtual Festival here! 
See you online Friday, May 20th from 18:00 CEST // 12:00 EST!