Pillows Takes "No Scrubs" Into 2020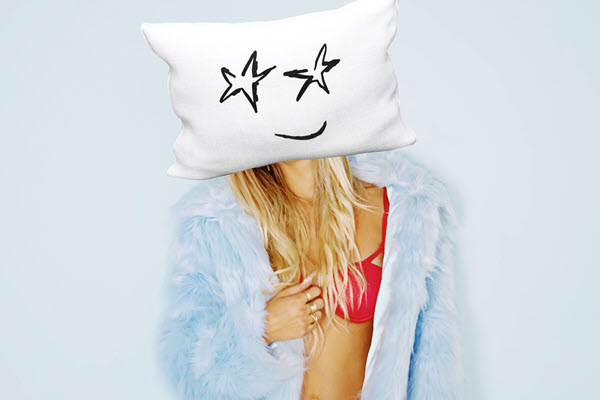 Today we're joined by Hungarian producer Pillows, who currently calls LA home, and is poised for lots of growth ahead. She had the opportunity to remake TLC's "No Scrubs," and she sheds some light for us on what it means to her to be able to put her spin on a classic track and one of her all-time favorites.  
Hi Pillows, thanks for joining us today! You've just released a remake of TLC's classic "No Scrubs." Talk to us about how you approached making a dancey 2020 version of this track. What made you decide to do a remake of it and how did you approach the production process?
Hey, Thanks for having me! TLC - "No Scrubs" is probably one of my favourite songs ever. I literally have not played a DJ set in the past four years that didn't have that track in the mix. It's one of the biggest hits ever made – in my opinion – so doing a remake of it was a no brainer for me. 
I wanted to make sure that I'm not competing with or "trying to reinvent" the original, so I made something in a totally different genre that is far enough from the original with a fresh approach in mind. 
Do you remember listening to "No Scrubs" from way back in the day? What meaning does the original version of this track have for you?
Yes I do, I used to listen to it all the time as a little girl. I also really liked the Bastille remake of it. 
It was one of those empowering songs to me, that I listened to when my little teenage boyfriend wouldn't text me back or I experienced a heart break. "No Scrubs" always made me feel better and helped me get through some painful "teenage l'amours."
Talk to us about your journey through your music career so far. When did you get started with producing and DJing, and what has your career been like so far through your eyes?
I started producing six years ago, but I have been a singer/songwriter for longer than that. I am from Hungary originally and I had been pursuing a music career in my country when I was 16 and had some success over there (I had two No. 1 songs and got signed to Warner Music). 
Then when I decided to move to LA things went to a whole new level – I got a chance to DJ at some of the most amazing clubs and venues quite early after I started DJing and producing (OMNIA, Marquee, TAO, Avalon, Create LA, and EDC). 
It's been so amazing and I've loved every minute of it. I've had so many crazy nights and memories and met the wildest/most interesting people from all around the world. I think looking back to it from 2020, it almost seems like a dream. Sometimes you don't know how good you have it till it's taken from you and there is a global pandemic all of the sudden. 2020 has been the strangest year, but at least it has allowed me the opportunity to really focus on my music and remain productive. 
Who were some of the artists who you drew inspiration from when starting out in music?
I used to listen to a lot of RnB, some rock and some old school hip hop (Destiny's Child, Kings of Leon, Green Day, Biggie, 2Pac) growing up. I'm also the biggest Diplo fan – everything he touches is amazing! I think he is one of the best artists/A&Rs out there. 
Who are some artists who you're closely following today that you think are crushing it? 
I listen to a lot of hip hop nowadays (21Savage, Blueface, Famous Dex, Gunna, Playboi Carti). Makes me wanna drop a mixtape real quick! 
What's next for you coming out of the studio? Anything that you can tell us about? 
I have a bunch of covers that are coming out in 2021, and some originals as well. Some deep house, slap house stuff with some pop elements – Pillows style :)
What's been your favorite show that you ever had the opportunity to attend as a fan, and what made it so special? 
I went to a Rihanna concert a couple of years ago that took place in my hometown of Budapest. She played at Sziget which is the biggest festival in Hungary and I got backstage / artist passes from her manager, so I got to hang out with her and her squad after the show which was super fun and very special for me. I played a bunch of her afterparties as a DJ when I moved to LA and they were really cool and welcoming towards me, so seeing her perform live in my own city where I was born was very special. 
If you could play a sold out show at any venue in any city, which would you choose, and why? 
I would love to play somewhere tropical and invite all of my friends once shows are allowed again. I had something booked to play in OMNIA Bali before the pandemic, and I'm hoping that I will get a chance to do that soon enough!