Nicholas Latiff Celebrates The Return Of Altru: Prism
Today we're joined by Nicholas Latiff, whose brand new track "Prepare For Landing" marks the relaunch of the Altru: Prism label. Nicholas takes us down into Nashville, Tennessee and shares how his history with the scene there has helped shape him as an artist today. Altru: Prism parties have meant a great deal for his career, and it's extra special for him getting the opportunity to relaunch the label with his brand new release! 
Hey Nicholas, thanks for joining us today! How is your year going and what have been some of your early highlights from the year so far?
Well to be honest, it's been a really nice year and a half or so. I've played every house party the city has to offer other than a key few I have my sights on! I've had release after release with labels I really respect and admire. Labels like Terminal8, Nashville Resistance, Miniline with my Colombian fam, Microtono, Don't Play Recordings, Chichi Music label, Diserpiero, mINT (the sister label for Iwantmusic), Fencing Records, Wyldcard, Weapons of Mass Love and Nhomina.
Aside from the producing aspect of my last year or so, being able to have steady and consistent gigs has been amazing as well. I've been so grateful to have Decompress as a constant for shows and creating content and spending time in the studio has led to meeting great people in real life as well as online. Terminal8 on a monthly basis for a long stretch also tremendously helped things grow in Nashville and was a place where I could explore something totally new to me with friends and DJs who I respect and love. On April 30th I had the amazing opportunity to play for Vagabundos for their first event. It was a lot of fun and a great warm up opportunity to get ready for the Talisman 2nd year anniversary May 6th this year after their first EP release in 2019 was really great. I will be Playing at Aire Libre in Mexico City soon too so that's just the cherry on top of the cake. I'm so lucky to have been given that dope opportunity!
Can you tell us about your background as an artist? How did you get your career started, and how have you evolved as an artist over the years?
To be real, it's been a process of development over the past 14 years. Being a music lover my entire life, growing up in a home with parents who loved music as well, it became my thing and I am the only musician in my family. I first came into contact with electronic music when I was really young. I was like 14 years old and it was my sister's quince party day. Whoever was in charge of setting all that up hired a DJ. Homie pulled up with 2 CDJ 800s and a small two channel DJM 400. At the time those were the industry standard! It was insane for me to see that and I wanted in. I asked the guy if he did lessons and he gave me one of his cards and the rest is history. Long story short, this dude taught me how to do basic beat matching, taught me how to set up a mix on duplicate CDs, how to organize music and I was off to the races. The funny thing is that I first started spinning hip hop mashups and flips all at like 80-90 bpm.
In school at the time, when I was living in Hong Kong in 2008/2009, progressive house was really taking off. Adam K & Soha were my favorites for some time. I even did a school project on one of their tracks that was a flip of "Need To Feel Loved" by Deline Bass, which is an amazing tech house track by the way. Adam K refused to give out the stems because they are signed to EMI Ibiza so no way anyone was getting hands on those stems! Some other artists who I was hooked on were Laidback Luke, Steve Angello, Mark Knight, Booka Shade, Felix Da Housecat, Eric Prydz, The Shapeshifters, and Junior Jack to name a few. All of my friends in the school I attended were really vibing with that and naturally I did too! So that's where I began my trek in this world of music, just loving how it made me feel making transitions. 
I took time off of music to go to college, but that was always a mountain way too steep for me to climb and I could never really juggle both. I never had an ambition for big business even though I have the education in it and am quite the tenacious individual. So post college I started to link back up with creative friends and put my energy into that! I reconnected with lots of people around me going to parties, the first one being the Altru: Prism party which I, like many others, miss and enjoy those parties. So naturally I got inspired again and dove back in trying anything I could to make house music. As a producer/DJ that I call myself now, it wasn't until I heard the Chris Stussy X Politics Of Dancing collaboration track was a big influence into the whole Dutch crew and minimal vibe and then I toppled into Sweely and since then it's been the 90s style which is the core of what I really love and propelled me into this!
I started messing around with Ableton years ago and I've just been trying to find resources since then. I found them with the DemarzoEMZ class and Syntho Hub. Those two platforms have been instrumental in my technical development as an in the box producer and now with their guidance I will be pushing to hybridize in the box with out of the box hardware vintage gear like my Mc-505 and minilogue XD (more of a new breed instrument).
What are your next major goals and milestones as an artist that you're looking to cross?
For me, I'm always wanting to push forward to finish more tracks. So this year will be about a few core things for me. Finishing more tracks to accomplish securing more releases, having more opportunities to play and enjoy the community, embed myself in diverse party communities just as much as getting up there and doing my thing. I'm feeling the need to begin digging for records and learning to play them. I feel like that's a mountain I must conquer. Would be a treat to one day play only vinyl. I also really need to find the elusive "balance" that everyone talks about. There just never seems to be enough time for everything but I would be really happy, all else aside, to reach that goal.
A fun goal: I want to visit ADE this year! I'm hoping that will be a really good time getting out into that scene. Would love to see myself travel within the US to play too. There's so many cities I want to see as someone who wasn't born here in the US but has lived here for so long – it's eating at me not exploring.
You're back with a brand new release titled "Prepare For Landing." Tell us about this one – where did the idea come from, and what was the production process like for you?
With every song I make I don't really go into it with a goal. A lot of the time it's a shot in the dark. Lately, I've been asked by labels to create projects for them so I try to make something that can align with their catalog, but at the same time I try not to sacrifice originality and my own spin. The inspiration has always been to lean into a higher energy for this project though. A lot of my tracks have a lot of intrinsic musical value. I feel like I have a bit of a groove about me, but that doesn't mean that all of my tracks are suited for big rooms. What I love about this track is that it maintains a simple, classic sound, but I wanted it to fit more of a big room sound into it for sure.
"Prepare For Landing" marks the relaunch of Altru: Prism. How does it feel to be the first track released on the label since 2018? What do you think makes this the right fit to relaunch the label?
It honestly feels really sweet! Altru: Prism was the first warehouse/club party that I went to that amazed me because I had never seen that side of Nashville. I am one of the lucky ones who's gotten to be there since the beginning of this scene blowing up. I'm passionate about what I saw at Prism the times I went and the times I've seen my homies play the event! It's an honor to work with John (Subrinse) and Altru, and to now be a part of the collective too. It really fits to relaunch the label together being a Nashville based producer, and Altru and I both share a passion for high quality and positive culture.
Can you tell us about your relationship with the Altru: Prism team? What do you think we can expect from the label going forward?
I'll be honest, everyone I have met or worked with here in town, I met them at a party of some kind or an afterparty. It started with hangouts at friends' houses, then to going to Prism parties back in 2018 and other functions that were happening around town. Altru consistently has me play events for them and I link up with producers over there including John (Subrinse) and we've just been cruising on this workflow from the get! Almost 5 years now on the trot! All of this happening while still working on my own things and events with close friends, and of course some personal and group achievements I am very proud of and really just trying to grow in general. Trying to get inspired from what we all saw and really at the end of the day wanting to contribute something back. It feels dope to have great standing with Altru team members and to work with them. Now we're doing a label release!
I really expect to see this label grow in the trend of seeking out great music and talented artists who we all like, but also I expect them to continue to focus on the local producers who are inspired by what's going on here in town. There is too much talent not to highlight in our own backyard! Let's get it out there!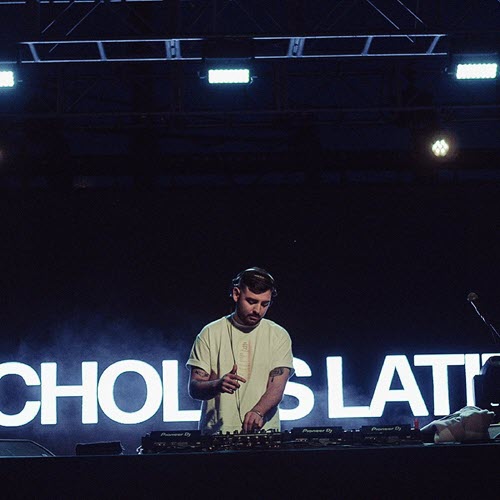 Do you have any other new tracks in the pipeline that you can tell us about?
Well I just got word today that my vinyl press with Weapons of Mass Love has been delayed by the worldwide vinyl shortage so I'm hoping that comes through here soon! I'm very excited about that release. Thank you Benoit for making that happen!
Others I can mention are an EP that I will be getting sorted out with Altru. I'm waiting to sign that contract and hop over to Amsterdam to finally meet a bunch of homies I've met on emails and producing courses. 
I also have a little remix that is in the works for one of my favorite producers! A super talented and well respected Mexican producer who I've been building rapport with in the recent months. Homie threw in one of my tracks at the beginning of his mix for Ibiza Global Radio! So if you look that up you'll know who the producer is.
And lastly as we look ahead, is there anything that has you particularly excited for the months to come in 2022?
I'm really excited for this summer! I feel like it's gonna be the first time since the pandemic began that we will all be able to be out in the heat with loud music. Also with the resurgence of older music in this scene and all of the microworlds of dance music, I fully expect there to be a bit of a renaissance feel to it all. I know I'll be spinning some favorites when the time comes!
I'm hella excited to book again for Decompress and play my first Prism show with this release! Those are two house music institutions for me here in town that I am so gassed up to be a part of. I have a lot of EPs that I promised … so I really gotta get that situated, but it's a good impossible kind of task to get to work on. I'm all high spirits and manifesting that 2022 will lead to an amazing 2023.