Steve Aoki Talks Upcoming Album Kolony & More!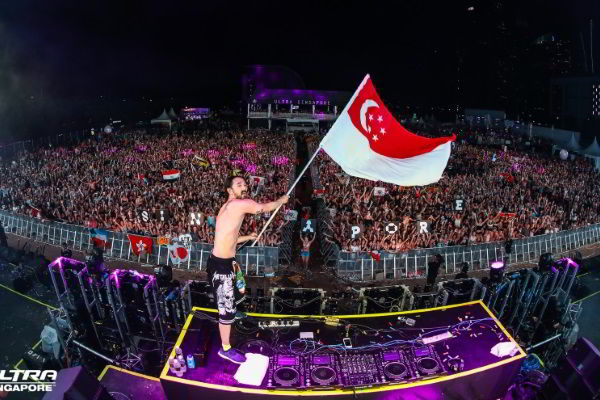 Photo Credit: RUDGR 
At Ultra Singapore we caught up with Steve Aoki, looking closely at what it means to him to play Ultra events worldwide, and examining his hip hop influenced productions and work with major rappers. We got the incredible story behind his just released track "Night Call" featuring Migos and Lil Yachty as well as an exciting preview of his recently announced album
Kolony
. Enjoy our inside look into the mind of an artist who continues to push boundaries with his own music and performances.
You've really become engrained in the Ultra family. What does it mean to you to return to an Ultra mainstage each time across the world?
Ultra is like the definitive icon EDM brand when you think about the experiential culture of what EDM encompasses. I've been playing for Ultra for a long time all over the world. I'm not even sure which countries – they have so many now, but they always put on an incredible production and have great lineups.
And specific to Singapore, what's your relationship like with this city?
I love Singapore. I've been playing here at Zouk, ZoukOut Festival, the clubs – a minimum 10 year relationship here. I think I've been coming out here since at least '07, maybe even '06 or '05. The thing is about Singapore – you wouldn't realize how educated the fanbase is in terms of electronic music.
When I was coming out here back in '07, they knew all of my songs, even though I was only doing remixes back then. When I dropped "Warp 2.0" with the Bloody Beetroots, back in 2008, everyone was going, "1, 2, whoop! whoop!" Same with "I'm In The House," my first single with Will I Am, to when
Wonderland
dropped, you can always count on the crowd to already be the first to know the music.
And social media was totally different back then, you can only imagine what the crowd is like now. Right when the song comes out, day of, they probably already know it.
What brought you, DVBBS, and 2 Chainz together on "Without U"?
I'd been talking to Chainz for a while about doing a song and we finally found the right beat to do it and DVBBS was very much involved in that. It was me and DVBBS working on that beat and I knew Chainz would flow over that one. Alex, Chris, and I have been playing that instrumental for a minute now too. It was an instantaneous grab for Chainz once I sent it – he laid down his verses and then we finished it off.
And now you've also done a really cool track with Migos right?
Yeah with the Migos & Lil Yachty record, I've been talking to Quavo for years. With Migos, these guys are production studio heads, they live in the studio. Look at Quavo – he has like ten songs in the Billboard Top 100, maybe even 15, so it's not like I can send him a beat and he's going to do it, he's already working on a gazillion other records.
Last year I was in Atlanta for our Dim Mak showcase there that included me and Lil Yachty. Migos came out, supported, jumped on stage and did some songs. 2 Chainz came to support, T.I. came out and jumped on stage, Rich The Kid too – we had Atlanta holding strong at the Dim Mak showcase! After the show I went to Migos' studio and started working on the track and that's where together we did "Night Call." And then Lil Yachty popped in at like 3 in the morning and I was like, "I need you in this song man, I need you." He heard the beat, got the vibe, jumped in the booth, and knocked his verse out.
It's a very interesting record for me because I wanted this record to be truly accepted in the hip hop playlists. With that intention, I took out the drops. I originally had drops in there, but I took them out for the album master. I can play that version at festivals, but I made the album track something that any kid could just pop through on a playlist and it'd flow just like any other song. It has some of the Aoki DNA in the song with the sounds from my soundset in Nexus. But in general, you always want to change gears as a producer, and so that'll be the next single that will drop in the beginning of July.
What was it like performing that track live recently in Houston?
So we did it with all three of us there and that festival was interesting because I was the only DJ at the festival. At the festival was Gucci –
I actually have a song with him too
– Lil' Uzi Vert, Migos, Chance, and a bunch of other artists. For me it was great, I'm playing in front of a crowd that wants to hear more hip hop. And with my album coming in a few months with so many hip hop influenced tracks, it was a great showcase. "Night Call" really went off, it was dope.
For festival season, is there any track that you're going to be playing that you think may be like a secret weapon?
I play the MORTEN remix of Garmiani's track "Bomb A Drop" in my sets. It's dope because the remix didn't get much action, so it's kind of like a secret weapon, but when you hear the "bomb a drop" sample, everyone is ready! Sometimes I'll mash it up with a very popular vocal too.
And then from your label, who are you looking at as having a big summer?
Max Styler is a great young producer who is killing it on the trap and future bass game. 
QUIX – he's crushing it. 
Keys N Krates are our main stable, they have such a great live performance, and they cross a lot of boundaries. 
And Rain Man is also consistently finishing big songs.
Steve Aoki's album Kolony is available for pre-order today.