Magnificence's Exclusive Mix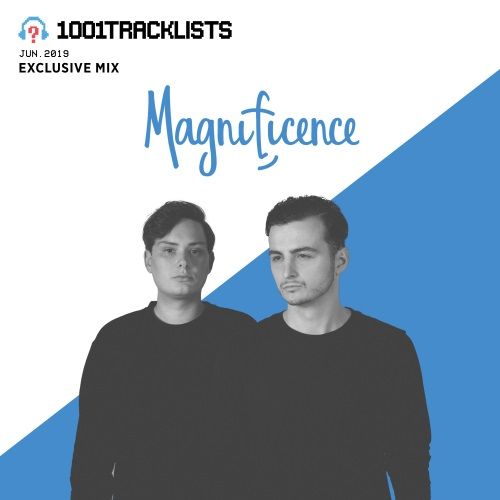 Last year the Dutch producer & DJ duo Magnificence burst onto the scene when Swedish House Mafia debuted the Magnificence EP during their reunion set at Ultra Miami. Subsequently, the release turned out to be one of the biggest EPs of the year, with the track "Cobra" hitting the #1 Top Overall Track position that summer. The huge impact that the Magnificence debut had on the dance music scene can still be felt now, as SHM recently played tracks from the EP at their long awaited Stockholm stadium shows. Last week, the 2018 release was followed up by the new EP II. We sat down with Robin and Maurice to talk about their new songs, their big plans for this year, as well as what Axtone and Universal Music mean for their career.  
You just released EP II on Axtone, with four tracks called "Lights'" "Control," "Remember" and "Encore." We can hear that your sound has evolved and that you are aiming to try something new, while we do still hear that genuine Magnificence DNA at the same time. Walk us through the different tracks on the EP and the stories behind them.  
Robin:
We've been playing around with a lot of different ideas for our shows. In this regard, we always talked about doing songs with different BPMs to give a new dimension to our show. That's where the idea of "Lights" started. I began from scratch, came up with this theme and recorded my voice saying "Turn Off The Lights." I connected with Goja since I really love the things they've been putting out recently. We worked through Skype sessions where we exchanged nerdy advice, and the result of all of this is the final song "Lights."
"Control" is a project that started years back actually. The idea was doing a really rave(ish) kinda song with techno/DnB influences. Back then it didn't feel like the right timing though. The previous break we had was more DnB oriented, which was cool. However, Axwell texted me asking if I could try something different in the breaks, so I sat down and came up with the idea of "Control." I sent it over to Ax and he replied with "Wow, you are the king!" Haha.
The third song on the EP is "Remember." I aimed at creating a heavy impact drop with unique sound design. Also, I really wanted to go experiment a little bit more with synthesizers, so I had this minimoog in my studio, with which we started experimenting. That's where the break idea came from, to which we then also added the hypnotic voice.
"Encore" is the last track and it's kind of the bonus track of EP II. This song is a bit special, and personal, for me since I was going through a phase in life where I felt like I needed to make some changes. The idea started two years ago and I finished it a few weeks back up in the mountains in France. The vocals are me singing. This was the first time that I started experimenting with that, and I might do that more often. The amazing video was shot by FINALIZED in Iceland. It just looks magical. Like I said, this song is special to me and I hope that you feel free and happy while listening to this song, because I sure did while making it.
Why did you decide to call the release II?    
Maurice: Last year we started a whole new journey with our first EP on Axtone, therefore it only made sense to name our second ever EP II. We feel that we are in the second chapter in the story of Magnificence. In II one can still hear the signature Magnificence sound that has its roots in the first Magnificence EP, while at the same time we introduce lots of new elements and techniques. The greatest thing about an EP is there's always more room to express yourself and to experiment with sounds. Which for us is important since we try to push ourselves to a new level every day.
This is your second EP release on Axtone. What is your relationship with the label and with Axwell in particular?  
Robin:
From the start we had a very special relationship with the Axtone team. With Simon Hills and Edd Thomas we have great partners and a platform that fits our creative goals. It's not every day that you get the chance to work together with this unique and high-standard record label. They trust us to deliver not only the music, but also the visualisation and planning for the release. Big thumps up to our management team as well here.
As the label boss, Axwell has been one of our biggest supporters since he heard our first demos last year. It was a once in a lifetime boost that Swedish House Mafia dropped our tracks. After this, he invited us to their new studio in Stockholm, where we had an amazing week talking music, production techniques, setting up new ideas, as well as competing with Seb at FIFA and enjoying dinner in their amazing restaurant Un Poco in downtown Stockholm.   
Maurice: I totally agree on that. As an artist in dance music, it is a great honour to have Axtone behind you. The guys at Axtone have helped tremendously throughout the process of creating II, and Axwell often gave us valuable feedback that helped push the EP forward.
What does it mean to you that Swedish House Mafia played your tracks again this year at their Stockholm shows?  
Robin:
It makes me very proud that our tracks "Cobra" and "Out Of My Mind" were a small part of this historic event. To see the videos of that floating stage in front of a massive stadium crowd, that goes crazy for our songs, is just mind-blowing.
Maurice:
We received a lot of videos on Instagram of people at the concert, who loved that part of the show and tagged us. It is great to receive so much positive feedback and to see that these tracks, one year after their release, still make an impact.    
And from now on, you have another big name behind you as well, as it was recently announced that you signed a publishing deal with Universal Music. What can the Universal partnership potentially mean for your career?
Robin:
The Universal deal was the logical next step. I have looked up to Universal ever since I started making music as a kid and it was always my dream to be signed with them one day. They will provide us with their expertise and with their network of writers, which we trust will bring our music to the next level and make more interesting collaborations possible.          
What do you prefer, long days in the studio or long nights on the decks?  
Maurice:
We both love travelling the world because it gives us the opportunity to meet Magnificence fans from all over. Playing sets in a variety of different countries and clubs inspires us to go back to the studio and make new music.
Robin:
I can't choose between these, as they are so connected for me. Both parts of the process are part of the fun that we have. I feel at home in the studio, where I love to work long hours. But every time we go on tour, a whole new adventure starts and we come home again with new stories, ideas and memories.
We've noticed that following last year's Ultra and the SHM support of your tracks, the Magnificence sound had quite the impact on other artists. How did you perceive this?  
Robin:
Before the two EPs, I was trying to make a progressive anthem, just like all of the other artists were doing at that time. Although our releases went fine, we ourselves kind of lacked having a clear identity and were too focused on following trends. I feel that has changed for us now. My advice would be that all producers should think about redefining what it means to be an artist. Producers should not make the kind of music that they think will please their dream label, but should centre more on their own creativity, brand and identity.  
Maurice:
We think it's really nice to see that the electronic music industry is going into the right direction again. Lots of artists are finding their way back to their own unique sound at the moment, and it's so great to see artists play our songs. Artists that are producing tracks that sounds a bit like us is just one of the biggest compliments that we could get.
As you just stated yourself, you guys always try to stay ahead. What is the creative process behind your music and how do you ensure the progression of your own sound?
Robin:
We always want to create something that we didn't do before. We wouldn't want to create a second "Cobra," because there is nothing new to gain out of that, we already did it. There is never going to be a better "Cobra." We make music with our sets in mind, and consider what the set needs in order to get a certain impact or groove. We don't really care too much about current trends in music, because we feel that distracts you from being you. At the end of the day, I just hope that we keep on contributing to innovate the electronic music scene, so that it can last another 30 years.
Where can we see you play this summer and what else is there to look forward to in 2019? Will there potentially be even more new music? The 1001 team heard some IDs on the mainstages of Ultra and Lollapalooza this year that we suspect to be new Magnificence songs, so can you reveal anything new?
Maurice: Indeed, there are some new Magnificence tracks being played by several mainstage DJs at the moment. And for those who've been to our shows, you've heard lots of new stuff as well. We can't reveal too much at the moment though, and we'd like to keep all eyes and ears on EP II for now. But, of course, new music is coming, and it will be released later this year.
Robin:
Haha yeah, of course new music is coming after the EP. Let's leave it at that... In terms of touring, we just came back from Emporium Festival in The Netherlands last weekend. We have Southeast Asia coming up and we recently announced two huge mainstage shows at the biggest beach festivals in Europe: RFM Somnii in Portugal and Electrobeach in France, which I am especially looking forward to as we have a dedicated following in France and the setting is so unique. In August we'll play Creamfields for the first time, which is very special for us. We do have a few more major festivals lined up that haven't been announced yet.        
Alongside this interview you guys made an insanely fresh 1001 Exclusive Mix. Can you highlight a few stand out tracks or artists from the mix? Why do you like them and what do they mean to you?
This mix includes some fresh tracks and edits from our sets with a bit of a summer vibe to it. Of course the tracks of our EP II on Axtone are in the mix to start with. We also included tracks from new upcoming producers that we think everybody should watch for in the future.
We really love the "Orye" release from our good friend and very talented tech house producer/DJ Marc Volt. "Orye" really brings those summer vibes and we expect that you'll hear this track being played a lot during this summer festivals.
Also loving the latest releases on Axtone, a really fresh track from HVMP called "Pipes." HVMP is new name to us, but we're looking forward for what's coming next for him.
Also, we really like the new music from Skrillex's Dog Blood alias. It feels a bit connected to our sound, perfect tracks to play and make edits with.
Enough words for now, we hope the 1001Tracklists listeners enjoy the mix and feel free to leave a comment, we love to read those!