The Top 101 Producers Return To Amsterdam!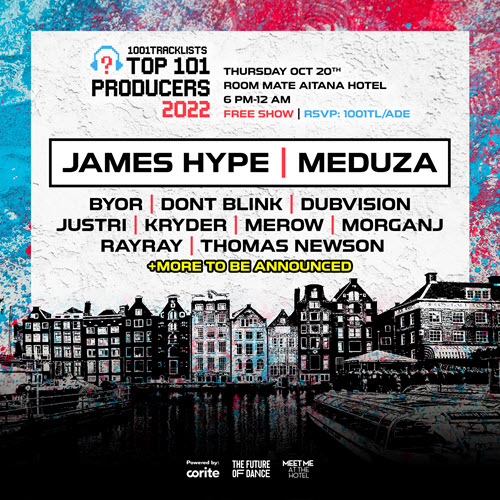 1001Tracklists returns for its third ever Amsterdam Dance Event showcase on October 20th at Room Mate Aitana Hotel from 6pm — midnight! This unique event brings together artists from the Top 101 Producers rankings as well as Future Of Dance selections for a night of new music, celebration, and community. We'll have 1/1 NFT trophies created in partnership with fan engagement platform Corite for this year's artists, and unique giveaways for attendees also up for grabs.
Playing on the night will be James Hype, best known for his 2022 single "Ferrari." His eclectic house sets and epic mixing have taken him all over the world and to the upper echelon of the global dance charts. He is joined by Italian outfit MEDUZA who bring deep and sultry vibes to the scene with smash hits like "Tell It To My Heart" and their 1001Tracklists chart-topping remix of "Tell Me Why." Also playing will be BYOR, DubVision, Kryder, and a trio of special back to back sets — Justri b2b Merow, RayRay b2b MorganJ, and Thomas Newson b2b DONT BLINK.
The 1001Tracklists Top 101 Producers rankings have become synonymous with Amsterdam Dance Event, and the highly anticipated concept makes its biggest appearance yet in 2022!
Earning global recognition for their online platform and annual list of the Top 101 Producers, 1001Tracklists also presents the Future of Dance — a celebration of female and POC talent in dance music. Born as a result of an ongoing lack of representation and empowerment within the music industry, the Future of Dance is not just a list — it's a movement to inspire greater change in the dance music scene.
The inaugural Future of Dance event will feature sets from some of the most inspiring female and POC artists over the last year, with the lineup dropping in the coming days. Aiming to make a difference in the industry, 1001Tracklists has partnered up with Soho House Amsterdam for their first 'Future of Dance Showcase.' Striving for more inclusivity in the electronic music community, 1001Tracklists has made it their mission to create global opportunities for minority groups, offering a platform for them to showcase their talent, as well as developing their careers further.