Industry Spotlight: Matt Caldwell & MCPR
Today we're joined by industry veteran Matt Caldwell as he shares many valuable insights for our community in the ever-changing electronic music landscape. A career born out of his passion and love for music and the underground scene in London, Caldwell is now approaching ten years of his own PR Firm MCPR. Having worked countless campaigns and across a wide spectrum of roles, we sat down for a long chat to look at his past, present, and future, while laying out advice and foundational groundwork for all of the up and coming producers/DJs out there!

Hey Matt, thanks for joining us! While it's been a difficult and strange past year, what have been some of your personal and professional highlights?
Hey guys, thanks for having me on. There's no denying that 2020 was a year to forget in a lot of respects, especially in the music industry. It was really tough to see the arts and music get thrown under the bus by a lot of governments when it came to support for businesses and artists. We've yet to even see the true lasting damage that the last year will have on our industry as when it comes to things like festivals and major events promotions, we'll likely only find out whether they survived or not when it gets to a point that we'd start expecting to see them back.
As for highlights, on a professional level it was refreshing to see my team and the industry as a whole rally together to come up with innovative ways to fill the void that lockdowns around the world imposed on us. When we got hit with the first serious restrictions, it started looking like our business was going to really take a big hit to survive. What we do relies on DJs and producers having a viable target to aim at before they consider hiring a publicist, and when you see everybody's tour schedules burnt to ashes right in front of you and all of the major events that we'd push our artists towards get cancelled, it was looking bleak. However, the electronic music world did not fall to pieces and we all got creative. The uptick in live streams, online festivals, video and audio content and everything down to the magazines and blogs digging deep to find new and unique ways to entertain their audiences really kept the candle burning for dance music. New openings became apparent and we realised that 2020 wasn't about waiting around for a miracle, but for thoughtful adaptation and inspiration. We changed gears a little to compensate the missing gap left behind by events being off. Pushing more into radio, podcasts and other online formats meant that we've been able to not only survive - but thrive through the pandemic. We're one of the lucky ones that can say that our business is bigger now than it was this time last year and we're incredibly proud of that.
On a personal note, I got engaged to my wonderful bride to be Inez and will be married soon, so there was a ray of sunshine cast over everything that was darker about the year. Having someone close through all of the chaos last year made the ride a whole lot less painful, so I'm thankful every day for that and am a very lucky guy to have her. I also took advantage of the extra time at home to really get stuck into a mountain of audio books. I've devoured nearly every music industry book in existence and got stuck into a whole lot more about psychology, philosophy, spirituality, business, history and more. I don't think I'd have made it through 2020 without Audible.
How have you seen the evolution of the role of a PR agent and PR firm over the course of your career? Where do you see this role heading in 2021?
The job description seems to change every year, so we're never caught off-guard by changes in technology or trends in dance music that we need to be able to provide support for. PR and promotion in general has always been there for me in music ever since I first got involved beyond just listening to the radio or going to events.
I used to produce and DJ many moons ago and I was always attracted to the side of the process when it came to getting a release or event out there. Most artists hate promoting, but I always found the concept fascinating. Even at a younger age when I was promoting underground releases of my own or promoting club events, I'd always be looking to innovate and optimise the way we promoted things and come up with new ways of working to take advantage of technology or available tools that others did not seem to see as viable. I had a bit of a fearless mentality when it came to getting the work done and took the promotion of anything I was involved in very seriously. I guess you could say PR came naturally to me as I just never switched off from looking at ways to promote that others were not doing. I used to host and promote second rooms for clubs like Ministry of Sound and a few in Ibiza and we generally used to be able to bring an army of punters along that rivalled the main promotion without us actually having any headliners. We did this with a mixture of 100% dedication to the job and creativity in how we worked and I think all of this combined pushed me towards the publicity sector in the music industry.
With so many artists going without gigs over the past year and subsequently photo and video content, what type of material do you see as having taken on extra importance for artists and labels to promote their music and profiles?
I think every artist, label or brand is different and you have to read your following to see what they are hungry for. Some artists managed to get through the last year without really releasing anything and just turned into full blown vloggers and social media channels as they were able to churn out content that kept their fans happy. Others made the jump into weekly radio shows or live streams to keep a more musical connection with their fanbases and stay creative.
DJs got hit the hardest as their main source of income was obviously live bookings and the online DJ streaming game has not yet managed to make up the numbers on that side of things, but producers are almost built for pandemics given that they are often reclusive, used to staying locked in dark rooms for days on end and not getting out very often. That's not to say that they have not been hurt too, but they can at least still do their work for the most part and have no excuses to not have new demos now.
Mark my words though, given that so many of the world's top producers have been sitting at home in the studio for most of the year, once the world opens up again there is going to be an absolute juggernaut of huge releases coming up, so we can all at least look forward to that.
1001Tracklists is a community filled with up and coming artists so we wanted to gear a few questions towards them. For smaller artists or even some bigger artists who are missing touring income, what advice would you give if they wanted to spend some money on PR, but had more limited funds?
That's a tough one, as with most things in life you get what you pay for. What I would absolutely not suggest to do is bypass traditional PR methods and get enticed by things like bot plays on streaming services and fake likes (whether there's absolutely any value to those is a whole different conversation), because although you may feel an initial bump in interest from the ever-shrinking group of industry folks that don't easily spot these kinds of things, you're ultimately on a path to destruction without a professional promotional setup in place. What I would say is that we can go one better than what can be done with limited funds and talk about what can be done without spending a dime.
Firstly, never post anything online that is not done. No works in progress, no "I'm working on this" or anything of the sort. This is an alarm bell for industry professionals to warn that you're someone who is still very much at the elementary stages of a project. Finish your songs, mix them properly, master them properly or even better – get a professional to do it for you. You can get pretty damn good mastering for very little investment these days and it is thoroughly worth it. Submitting an unfinished or unmastered song to a label A&R or demo inbox is much like turning up to a job interview in your underwear – don't do that.
Next up, tidy up your social media profiles and make sure that you're only on social media platforms that you use regularly. One active Instagram account is better than 7 profiles on 7 platforms that sit there stagnant. Labels, managers, publicists, press and everyone else in the business will judge you on your online presence, so keep on top of it, keep it original and keep it looking like you love what you're doing and have energy for it.
There's no excuse in modern times for a low-resolution press shot. If you don't have a DSLR camera, you know someone that does. If you really don't know someone that does, a new gen smartphone will do the job for now with good lighting conditions. Try and get some form of post-editing with Adobe Photoshop, Lightoom, Luminar, or if you can't afford that, get a free trial of a phone app that does a similar but not as good job with filters and aftereffects.
Ok, photos aside, get a logo. Again, this is a case of do you know someone? Can you do it yourself? Can you outsource a low-cost designer? It's worth it as any "peer" will see you before they hear you and believe me, many a demo has been deleted before it's even been heard just because the social media profiles and image were all wrong. You don't want to be that guy.
Once that's all cleared up – write a bio. If you can't write a bio, write bullet points about yourself, your story and your journey and ask a friend or family to help. A good bio can make your demos sound 10% better.
Last but not least, get into a habit of using hashtags to generate free traffic and tag relevant peers around you to develop your network. You're only as a big as your circle, so even if you're getting on at the ground floor, start making connections and over years those connections will turn into a network, which can be very powerful indeed. If you make friends now with other producers at your level, you can support each other, work in synergy, and it's usually the case that one or more of them will start doing well and try and give the others a helping hand to do the same.
I wrote at length about this subject in the PR & Promotion chapter of
The Dance Music Manual (Edition 4)
by Rick Snowman so if you'd like to hear more about the kind of things I'm talking about here. I'd recommend the book, not just for my chapter, but as a whole as it is a comprehensive guide to everything about music production in dance music from level 0 right up to advanced synthesizer sound design and everything in-between. The book is published via Routledge/Taylor & Francis and if you're at college or university you'll likely find it in the library. You can also buy it at most major book stores.
For all of the aspiring DJs and producers who are just getting going and maybe have one, two, or three releases on 1001Tracklists, what would be the top three pieces of advice would you give them as they try and progress their careers?
Narrow down your target range. If you focus solely on getting the attention of 2/3 artists or labels over a year by creating and improving on productions that are the kind of thing they play and remain persistent with communications (not to an annoying degree though), you'll be much more likely to hit your goals rather than a scattergun approach.
If you've got one or two plays on 1001Tracklists, use the site! The community is thriving, the tracklists are streaming in by the hundreds and thousands, so keep an ear out for DJs that are playing similar styles to you. Hit them up with your promos pre-release and make them feel like a special target of yours.
 
Never give up. If a release or demo does not work out, it's either been badly managed or it was not good enough. Don't take that to heart, take it as motivation to improve. So many producers think they are as good as the top 10 this week, but most of them are not. Your ego and personal taste can blind you at times, so refer to Malcolm Gladwell's 10,000-hour rule and if you've not invested that much time into becoming a producer, get to work and commit. No self-producing, ghost-writer free artist managed to master production in a few months, it's just not possible. This is a deep and technical artform and there's not a human on earth who knows everything about it, so never stop learning.
What do you think are a few of the biggest misconceptions about PR agents and how would you dispel them?
There's a decades old stereotype that anyone who works in the music industry who isn't an artist is a money-grabbing snake that has no love for the artform – that is nonsense. There are some of those people out there, but seldom do they make it very far. So if you're looking for a publicist, do your homework, check for references, see who they have worked with, ask questions, analyse their authority on the subjects you're talking about and whatever you do, don't sign any contracts without getting someone who knows what it all means to read it first. All of the leading PR agencies I'm aware of in dance music seem to be professional and committed to their artists, so it's just a case of dodging the bad ones, which should not be too hard to find with a bit of research.
Another thing you see and hear a lot of is that music executives and people who work professionally in the industry are suit and tie boardroom types that just don't get music, scenes and the underground music culture. 99% of the time that is also not true. The fact is that most of us grew up playing our parents' records, falling in love with music, spending our youthful years at parties and festivals and locked into our favourite shows every single week. We lined up outside record stores on release days, pinned festival posters on our bedroom walls and fanboyed/girled our favourite artists and labels just like everyone else out there. Half of us were or are DJs, producers, record label owners, promoters and used to spend every weekend in the front row at a club dancing until we were told to go home. I could really have used 1001Tracklists back when I was a kid as I used to try and do what you guys do with a note pad and a pencil, writing down any track names that were mentioned and running up into the city to find them on vinyl the next day.
The real truth is more likely that we loved music so much that we were willing to put everything on the line and not go down more normal or safe career path to chase our dreams of being involved in the world of music. We've often put ourselves into substantial student debts to put ourselves through music degrees and further education which is a massive risk in an industry with so few jobs. Some have had to deal with the family pressures to "get a proper job" and every stress that comes with that whole chronicle – just like an artist. Really, we are the total opposite of that often-used mischaracterisation, we do this because we love music and those of us that have made a success out of it are rare, so the risk is real. I don't believe in luck, so I think that those that have built up businesses from their bedrooms at their parents' houses deserve a lot of credit. When you start-up a music business, it's a grind to get anywhere near profitable at first without investment. It's a risk that most people just would not take. Our agency started out in a bedroom with a dusty old laptop, no money, no investor, no loan and no one helping. It was built organically from the ground up and took nearly a decade of non-stop work to become what it is today.
Aside from that, there's a stigma around paying for promotion that I think needs addressing in the music industry. People who love their respective genres see and hear about stories of artists breaking through without a cent spent and zero help and whilst this has happened, it is one in a million, so unless you genuinely are a generational talent that is better than everyone and everything that has come before it, don't kid yourself – you're going to need some help at some point.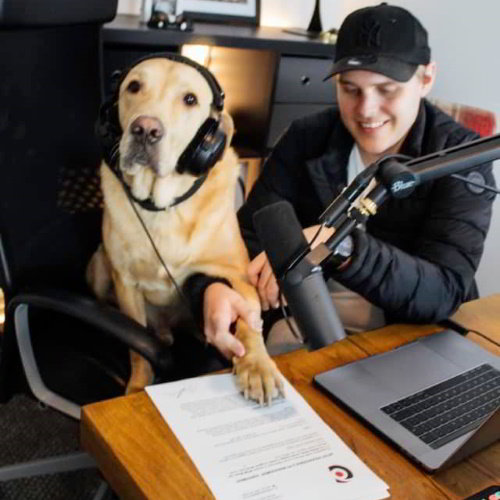 Reflecting on your career, what have been a few of your all-time favorite campaigns you've worked on and why?
So I could show off here and reel off a long list of major artists and labels that we've worked with to blow my own trumpet, but honestly the campaigns and clients that bring me the most joy and keep me in love with the job are those that did not really believe that they had what it takes to be successful, but needed to try. The diamond in the rough that is void of ego and had low expectations of what we could do with them that we then turn around into a massive campaign that blows up and lands them major media attention or chart success is the best feeling in PR. Being able to call a client that was not expecting much to tell them to turn on BBC Radio 1 or a similar elite global radio because their song is playing is a joy I will never tire of.
And as we look ahead, what do you have cooking at MCPR? Do you have any specific goals or plans for next year?
Well if 2020 was initially about survival given the global circumstances, 2021 is about preparing for what I believe is coming down the pipeline. I'm absolutely predicting a massive resurgence of culture once we get over this pandemic and I am expecting to see a lot of talented people that have had time to reflect over the last year make the decision to endeavour into the music industry as a passion project and leave their careers behind once the mundanity sets back in. This means there will be more of us working full time in music which is a good thing.
I am expecting a lot of major investment into global festivals, technology, the nightclub sector and a whole lot more. As I touched on there's going to be an avalanche of incredible music that's being made as we speak getting released once we get the green light and I really do expect a culture boom like something you'd see after a war. History shows us that after extended periods of pain and depression in the world, the years that follow usually bring a huge lift in public wellbeing and especially the arts and I'm hoping and expecting this will also happen in our world too.
As for us, we've adapted by necessity through the pandemic and are now ready to come flying out of the gates with a bunch of new strings to our bow and cannot wait to get it all moving again. We've done well to keep busy and growing through this difficult year and with everything that we've had to learn to keep us moving in the right direction, I've never felt more confident about the future of our project.
Thanks for the chat guys and thanks for all the good work you guys do at 1001Tracklists, you've become a valuable resource for a lot of what we do here and I know you will keep on innovating to make our lives as music professionals better and easier. My inbox is always open to anyone too whether it's about paid professional level work or just to talk music, so hit me up at
pr@mattcaldwell.co.uk
as I'm never content that my network is or will ever be big enough – and as one last tip – neither should you.
Connect with Matt Caldwell PR Online: