Jose De Mara & Crusy's Exciting Road Ahead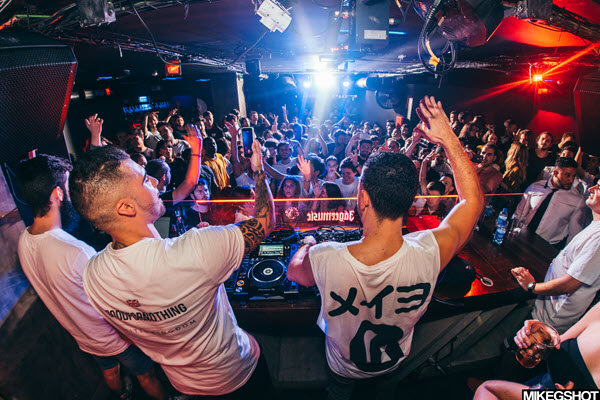 Jose De Mara and Crusy have been super busy on the touring front, coming off major tours in both China and Japan. Those were some memorable experiences for the Spanish duo, who go in depth on what stood out and offer some insight into what Asian gigs are like as compared to Europe and the US. Jose and Crusy have tons of new music lined up, and their latest is a collaboration with Japanese artist NORII entitled "De Beber." Read on to learn more about the latest inside the world of Jose De Mara and Crusy!
Hey Jose & Crusy – thanks for joining us! How's the year been so far for each of you and what have been some of the highlights?
Jose De Mara:
It's always nice to be talking with you guys! In my opinion this is definitely our best year so far as artists. We made a lot of music last year and it's all ready for release now, so I'm feeling pretty excited to be honest. And to have the chance to play and have fun with my friend Crusy in so many different places touring the world together is a dream come true for us!
Crusy:
Hi guys! It's great to be back at 1001Tracklists! I think it's our best year until now! We've been working so much on all of the music that's going to be released, we're playing tons of shows, and for us it's a dream come true to be able to share all of these experiences around the world.
Let's jump into your latest track "De Beber" together with NORII. How'd you come to work with NORII on this one? How did the track come together and what was the experience like working on it?
Jose & Crusy:
Working with NORII is great! He's very talented, and a very nice person. Everything came out the first time we went to Japan. We instantly saw that we had a very similar taste in music so we tried to do something that we could both play in our sets! Talking about the process, Jose and I have been working a lot with Kryder, Cato Anaya and Kryteria, and Cato introduced us to Mathieu, the singer that sung "La Cumbiambera." It was amazing to work with him, everything came out so fast! We made a few versions until we felt that it had the energy to play it in a club and in a festival, and here's the result!
You just returned to Japan to play alongside NORII. Tell us some more about your experience with him in Japan.
Jose & Crusy:
He's definitely trying to educate people in Japan. He's playing really good music and it's great to work with him. We love Japan, but we love even more Riviera Club in Sapporo for giving us the chance to show our work to our Japanese fans and treating us 10/10. They're lovely people!
You guys also have an upcoming release next month on SONO with Spanish artist Brian Cross. Can you give us a sneak preview of what to expect from this one?
Jose & Crusy:
As you may know, we really like to collaborate with other artists and this came together quite easily for us! We had met several times during the festival season in Spain and we talked a lot about mixing our tribal sound and his more commercial records. Also his track "Faces & Lighters" as well as the remix from Tom Staar were highly supported by Sunnery and Ryan, so we thought about doing something housey and a bit tribal that could fit in their sets. We've been testing it in all of our last shows and we are very happy with the track reactions! It's called "I Remember" and it's coming out on SONO Music on the 13th of May, so, be ready for it! ;)
Can you tell us about your Arcadia Night in Miami together with Leandro Da Silva? How'd the event go?
Jose & Crusy:
Miami is one the places where we felt Arcadia must have a presence. We did some shows in Spain and even Japan last year, but to jump into Miami was a really big challenge for us, and we love challenges! Leandro is also a really nice guy and a great producer so we really respect his work and it was perfect for us to work together on this event, pushing our brand Arcadia with his Lizard brand to create something where all of our friends could be involved just having fun and connecting with new people. It was a great starting point for us. We're definitely thinking about next year now, so stay tuned for Arcadia Night in Miami 2020!
You guys were also on tour in China last month where you did six shows in six different cities. What was that like? How were the crowds at these shows?
Jose & Crusy:
China was sick! We expected something big but the clubs have been next level!! It was our first BIG tour so it has definitely been one of the great experiences we've had together. We really enjoyed our time there and have so many good experiences, we laugh a lot every day reminding each other haha. On the other hand, travelling so much is something that we had never done before until these months, and we understand the necessity of sleeping well and maintaining ourselves physically and mentally during the journey. Definitely one of the hardest parts!
Having just played a lot in Asia, can you compare and contrast your sets in Europe and the US to your sets in Asia? What's the state of groove in Asia in your eyes? How have you seen it change and where do you see it headed?
Jose & Crusy:
It's totally different. They're discovering everything now, new EDM genres, new festivals coming up… so there's no way to compare Europe and Asia in this aspect, especially because music genres are a bit harder in Asia. They love more EDM/festival stuff so we know we must adapt as much as we can without losing our style. It's something challenging but we love to challenge ourselves and see what we can do. Definitely it has been one of our best experiences!
And lastly, is there anything that you're particularly looking forward to in the summer months ahead?
Jose & Crusy:
We are pretty excited with our summer dates. This year we are playing in two of Spain best festivals, A Summer Story in Madrid and Los Alamos in Malaga. We are so excited, particularly for A Summer Story, as they have supported us a lot during the last few years! We are planning also some solo and B2B sets in Valencia, Slovakia, Mallorca and Malaga… so it's going to be one of our best summers so far! As always it's been a pleasure to talk with you guys, thank you!