A Look Inside #1: David Guetta
2018-2019 was an incredible year and start of a new chapter in the illustrious career of David Guetta. With a firm commitment to return to his club roots and make music for the dancefloor, his productions under David Guetta also exploded. Collaborations with Nicky Romero, Martin Solveig, and Dimitri Vegas & Like Mike racked up the DJ support and his tracks with MORTEN are set to influence the dance music scene in the years ahead as they've found a unique way to bring a more underground sound to massive festival stages. At the same time, the launch of Guetta's Jack Back 
alias 
was met with an enormous reception. His releases on Toolroom and Defected under Jack Back marked his biggest of the year under both names and were a key part of his rise to #1 in the Top 101 Producers 2019. We were honored to be joined by Guetta as a special guest during ADE as he collected his #1 trophy and spoke to the crowd about what the award, website, and community meant to him. To bring some more of those insights to everyone at home, enjoy our interview with David reflecting on the #1 Ranking, his new sound, and the exciting future ahead!
David, thanks for joining us today! We're thrilled to be celebrating your incredible production run in the past year, your #1 ranking in the Top 101 Producers, and the exciting future ahead. Looking first at the #1 placement in our Top 101 Producers awards this year, can you tell us some more about what that accomplishment means to you?
It's a huge honor! It's amazing to receive this award and it's obviously very encouraging, it only makes me want to do better and to produce more music. Also the fact that this is 100% data-driven makes it even better.
The reception by fellow DJs to both your David Guetta and Jack Back productions in the past year has been incredible. When you've been working on your recent tracks, are you always keeping the dancefloor in mind as a top priority? What do you think are some of the keys for making your tracks so accessible for DJs and dancefloors worldwide?
I think I've reached a point in my life where I mostly do things I am passionate about. So I think that that is my top priority at the moment, creating music I am passionate about and I think Jack Back is me going back to something I really love in a way. Of course people's reactions to my music is very important and that happens on the dancefloor so it's always something I keep in mind as well, but my recent tracks are mainly focused on really producing something I am passionate about and I have fun creating and playing. I'm really lucky and I feel blessed that my fans and my fellow DJs have been so supportive of my latest tracks.
Next to that, I've been working on this completely new sound with my friend MORTEN. This sound is influenced by techno and is a bit on the darker side, but has a huge sonic at the same time. It almost makes it like a rave that would be sexy, house. You've heard that sound starting with "Never Be Alone" and you can hear it in "Make It To Heaven."
We're really curious to learn more about the influence that Ibiza has had on your productions over the past year. How did the scene there affect the way that you approached your Jack Back productions?
It's interesting because the scene in Ibiza is mainly for feel good vibes, so the people that come to my shows there mainly want to sing along, dance and enjoy the good vibes which is an energy I definitely get when playing as David Guetta. But last year I switched it up a bit and started playing stuff that is a bit more underground and records that are kind of deeper. That turned out really well and I had a great response from the crowd. Seeing that I could take the crowd on a journey with this more underground sound definitely influenced the way I saw my Jack Back productions. The crowd's reaction when you're playing is always the best feedback.
How might we hear the influence of your new residency at Hï in the upcoming David Guetta productions?
Ibiza obviously influences me in many ways. It's like my second home, I spend most of my summer here and I love it! My residency at Hï this year has been absolutely amazing, the production work was insane, and I had to remodel my music to fit the lighting design. I worked on it with High Scream and will be doing so for my upcoming Arena tour in Europe as well, so those influences will definitely be showing there.
Your work with MORTEN has been nothing short of exceptional! You guys have really found a unique sound that we think will define 2020. Can you tell us some more about the key elements in your tracks together?
Thank you! What's great about working with MORTEN is that we really complement each other. He often comes with new sound ideas and I add chords or melodies. It's a good combination because it creates a kind of underground sound that at the same time is appealing to a large festival audience. I love it because the underground sound is really different from what I'm used to releasing as David Guetta, but at the same time it is produced in a way that it appeals more to the larger crowds which makes it possible for me to release it under my own name.
Tell us a bit more about finding the magic balance between David Guetta and Jack Back. Can we expect a similar balance of output in the year ahead?
Well, Jack Back has a sound that is more underground and that is more targeted towards the club scene, unlike David Guetta which works really well for big festival crowds. I think this distinction and realizing how the crowd reacts to both sounds really allowed me to find the right balance. I often get requests to play as Jack Back at festivals, but I feel like if I do that, Jack Back will become David Guetta in a way and I don't want that to happen. This more house and underground sound is meant for clubs and I want to keep it that way.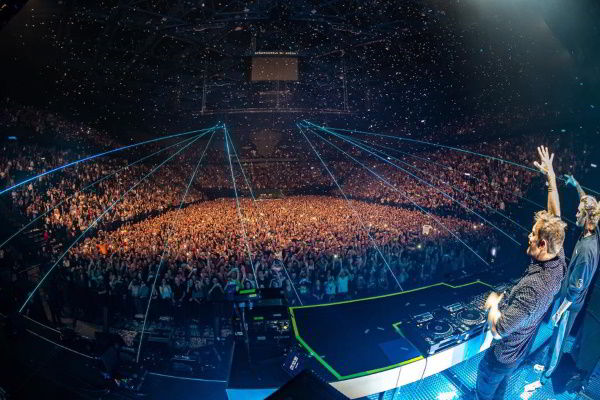 And lastly, what has you most excited for the future of both projects?
I'm really excited to keep exploring these different new sounds. I obviously love playing in front of big crowds or at festivals as David Guetta, the energy I get from it is amazing! And on the other hand, Jack Back allows me to play different kinds of shows and go back to my roots in that sense. It gives me a lot of opportunities to expand my creativity and to release even more music of course!