Mike Mago: Crossing Borders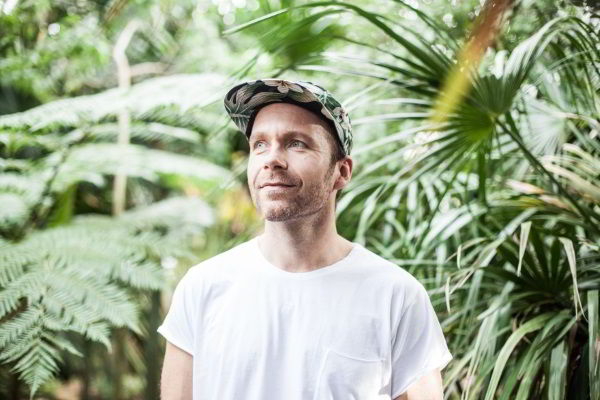 Each time we have the chance to talk with Mike Mago we always enjoy his heartfelt and insightful perspective on his music. His new
Crossing Borders
 EP provided another great chance to catch up with Mike and he explored his diverse musical interests, influences, and productions in our interview. Enjoy the three great tracks – "Feels So Good," "You Don't Know Me Now," and "Brothers & Sisters" and the story behind them.
While the title is Crossing Borders, what do you feel is a unifying component or theme for the three tracks on the EP?
I think the tracks represent the areas in which I like to move musically. In my eyes the three tracks come from three different starting points in terms of mood, feel or genre. It might be all the same for the listener, but for me one track "Feels So Good" comes from the more poppy festival music that I like. The other one "You Don't Know Me Now" comes from an indie meets dance perspective, and the third "Brothers & Sisters" is a track that comes from my bassy and electronic side. The combination of those three areas is where I like to move at the moment, both in terms of DJing and producing. If I'm honest I sometimes find it a bit hard shifting between those areas since I'm afraid it will mess with people's expectations. I wanted to release an EP that displays this different musical parts of me so it would be easier for me to cross those musical borders in the future.
"Feels So Good" – what a track! The track does just that, makes you feel so good! Can you take us through the production process behind that one going from the first version to final tweaks?
It all started with the vocal I got from my publisher. I really liked the energy in the vocal and hook and when I was building the track around it, it felt like one of those tracks that made itself. I wanted to create an oldschool vibe around it. I love working with breaks, especially the Bmore break, and wanted to incorporate them in one of my tracks for a while. This was a good opportunity to do that. The ravey piano, I think, is heard in some of my previous tracks. I liked how it worked in combo with bass in one of my first tracks "The Show" and wanted to do that again. So it was all a process of combining all of those things I had I my mind for a while. It fell together pretty quickly. The vocal cuts that make the hook came in during the last part while I was already in the mixing stage. I was just goofing around and suddenly made that.
What was it like working with Elderbrook on the songwriting and production for "You Don't Know Me"?
I've been in love with Elderbook's voice since I heard him singing "How Many Times" on the Andhim remix. His voice is so unique. It's smooth and cool, but at the same time broken and it gave me the feeling that I really heard the singer's soul. So I wanted to work with him for a while. This backing track was initially made to work on a recording that I made with Charlie Fink, the singer of the former band Noah And The Whale. Now that I think of it, the same type of singer as Elderbrook. That recording somehow didn't make it and then we decided to send it to Elderbrook, along with some other backing tracks. He picked this one and the moment I received his topline I knew it was something special. It all went via mail and managers. I don't think I've ever exchanged words with him directly.  
Both "Feels So Good" and "You Don't Know Me Now" have been picking up some nice artist support. Is there anyone that you get particularly excited by when you hear they've supported your music?
Definitely! I like it when the range of support is really wide. In this case guys like Don Diablo and Martin Solveig gave support as well as guys like Watermät, Lost Frequencies, Vanilla Ace and Tough Love. For me that's a pretty wide range musically and I get excited about that. But I get particularly excited when I hear Martin Solveig is supporting it. Because for me he's the only mainstage DJ that tastefully combines the recognizable tracks for a big audience with interesting new and unknown tracks. It's nice to be on his radar.
What was the inspiration behind "Brothers & Sisters"? Can you talk about bringing some tropical and ambient elements into the track?
Well I talked about the elements of "Feels So Good" falling together quickly. The same thing applies even more to "Brothers & Sisters." I found this sample of arppegiating voices, pitched them and time stretched them a bit. It was during one of my loop making sessions. I have periods where I start every day with making loops, without really thinking about what I'm gonna do. Just tentatively messing around. One of the few decisions I can recall is that the voices were really sweet so I felt I needed a heavy drone type of bass to make a contrast. Those two elements made the rest of the track easy to finish.
Looking into your sets at the moment, what are two or three must play tracks or artists for you currently?
Artists that are in my set frequently are Chris Lake, Format:B, Franky Rizardo, CID, Malaa, EDX and Luca Debonaire, who by the way is releasing on my label BMKLTSCH RCRDS in a couple of weeks. A track that I love playing at the moment is Waze & Odyssey – "Down With Tha."
Who and what should we be on the lookout for from your label BMKLTSCH this summer?
Our next release is from Beatport smasher Luca Debonaire. After that we have a big release from the talented Billon. A track of which I'd predict will make some waves and after that Aevion returns on BMKLTSCH with a release that has summer written all over it. I will also do a new release again pretty quickly here.
And what has you most excited for the oncoming summer?
It's a bit of a weird summer for me this year because it's the first time ever that I have a whole bunch of tracks ready to be released. Next to some great shows I'm gonna do (like Tomorrowland and Summerfest), I also have a bit more freedom (or less pressure) in the studio to develop new stuff. I'm really excited about just doing the gigs, working freely in the studio and seeing new releases come out (e.g. on Spinnin' and BMKLTSCH). I'm definitely gonna enjoy this summer!