Markus Schulz Dives Deep Into The Nine Skies
Coming off another trademark Transmission performance, we sat down with Markus Schulz to dive deep into his third Dakota album – the astonishing, enigmatic, and thought-provoking,
The Nine Skies
.
The Nine Skies
is not simply an album, show, and concept; it is a journey arcing from darkness to enlightenment rooted heavily in Markus's own spiritual awakening. Our talk takes you deep into Markus's mindset, life outlook, and spiritual quest, and is sure to stimulate and inspire your thinking not just about his music, but about life more than any interview we've ever done. Enjoy.  
Markus, first up, we'd like to know where your interest in the more spiritual side of life first started? Does it have some relation to your childhood?

I think that for any child growing up in the world, we have all wondered and asked ourselves why we are here. We spend moments thinking; looking for answers to questions, and when we don't get those answers, we search for them. 
I wouldn't necessarily describe myself as suddenly becoming spiritual. However, the various tragedies that have happened in the world in the past couple of years have cumulatively make me ask those questions; transcending towards hearing the call to embrace the role of an activist. 
Expressing that was a different matter; because I am not particularly the type of person who is preaching or tweeting commentaries on the world's happenings. I therefore chose to express myself through music – the only way I know how. 
When was the first time that you introduced that themes into your professional recording & DJing life? 

If you examine my discography, there always has been a spiritual side. Not always intentionally, but a lot of the titles throughout the years do present hidden messages. 
However, it is one thing to subtly title things with a spiritual sense, but undertaking a full, conceptual based show is a lot different. 
My hope with this paramount concept is that it will uplift people; something that not only I was searching for within my inner soul, but something other people have been searching for as well – a true escape through the music. 
In your own words, what are Dakota's The Nine Skies?

The Nine Skies illustrates the journey in life where we begin as lost souls; and through our various travails encounter the nine steps towards enlightenment. 
Do you feel that the first two Dakota albums (Thoughts Become Things I & II) were in a way the vanguards to this project?
I think so. The Thoughts Become Things term was inspired by reading Rhonda Byrne's book The Secret. And within both of those albums, there already was a deeper feeling, with a deeper thought process. 
Dakota for me has always been about my introverted side. People often ask me to describe the difference between the Markus Schulz productions and the Dakota productions. The Markus Schulz tracks describe my relationship with the fans. It is based on the connections made with people all around the world at events, and visualised on things that I see. 
Dakota however is based on my inner most thoughts, those introverted thoughts that require you to retreat and dive deeply inside your shell to find. 
You said last year that there was "a tipping point" for The Nine Skies. Could you share what that point was with us? 
The various tragedies going on in the world, along with all the other nonsense, made me sit and reflect deeply a lot more. 
The attacks in Paris were the instigator, but the tipping point was the mass shooting at Pulse nightclub in Orlando; somewhere close to home. It shook me to my core. 
From that point, how did you go about defining the parameters or stages for each of the 'skies'?
The immediate aftermath of Orlando had me in a spiral of emotions – anger, sadness, anxiety running through me. I had to give up going on to social media for a long time, because how could I personally promote all of this euphoria of being on stage at gigs, while all this tragedy was happening in the world? It would have been a huge disconnect, and I couldn't fake being happy, while in truth being torn up inside. 
So The Nine Skies was born out of these circumstances – in an effort to highlight these nine steps we go through towards enlightenment; providing a blueprint of sorts and hopefully inspiring people.
Still, all of the violence in the world doesn't make sense to me.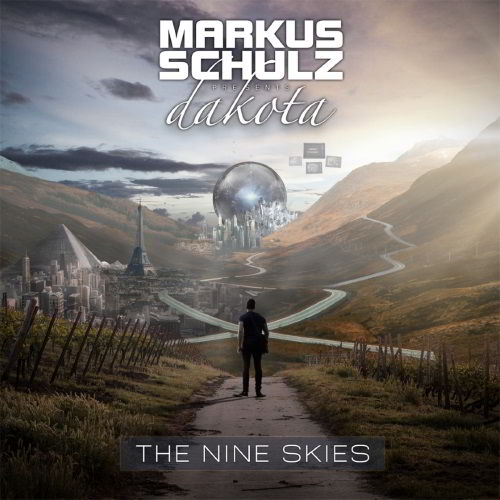 Could you highlight some personal life experiences of your own that relate to certain chapters of The Nine Skies and how, maybe, they manifested themselves in the music?
Each sky is based on a personal experience. Sky One – The Follower for example, is based on my childhood growing up in Germany. My step-father was in the military, and I would be moving around various army bases in the country. I would see these young soldiers at that time, and now in retrospect, people nowadays can often look at soldiers in a negative way. But if you think about it, they are on their path, doing what they are told. 
Another example would be Sky Four – The Pleasure Seeker. This is based on experience of attending nightclubs. When you think about it, a congregation inside a nightclub can contain people from all sorts of different backgrounds with multiple differing interests, but through interaction of hooking up, sex, drugs and rock n' roll, it is people interacting with others that they normally wouldn't do, and one can become enlightened because of that. Going for the music or going for a particular DJ means that there is a common search for pleasure, and there can be bonds established that you never imagined was possible. 
For anyone interested in exploring some of the spiritual awakenings you did, are there any books, videos, or other material you'd recommend for them to check out?
It wasn't necessarily restricted to one single, direct translation. In the aftermath of Orlando, I started reading Reki, which is based on reincarnation, and nine steps within various lifetimes. But I found that there were similarities in the steps that we encounter and travail through in our normal life. 
This is not a concrete list of what definitively inspired The Nine Skies, because a lot of it was based on interpretation, rather than a direct translation. But if you are interested, here are some of the things I read.
Diane Stein – Essential Reiki: A Complete Guide to an Ancient Healing Art
Caroline Myss – Anatomy of the Spirit: The Seven Stages of Power and Healing
Anodea Judith – Wheels of Life: User's Guide to the Chakra System
Each of the Skies are accompanied by an eye catching and deliberately thought provoking image. Who is the artist behind these images?
It is a guy named Aaron Elliott, who Adina Butar knew and recommended for the project. I agree with you, his work towards bringing the skies into pictorial form was absolutely outstanding. 
As one of, if not the, defining DJ face of Transmission, we couldn't imagine a better place to see The Nine Skies show. How did the crowd's reception to the show compare to your expectations [full set + tracklist]?

Transmission in Prague for me was the ultimate goal to get the show perfectly right. I was glad to have already done a few of The Nine Skies live events prior to that; because it allowed me to tighten the show up over time. With The Nine Skies album being released shortly after the show, 
I wanted Transmission to play an important presentational role in this story; because of how important a relationship they have been in my career, and because visually, it is a spectacular setting. So for the limited edition box set of the album, it also contains a blu-ray disc of the full Transmission set, as well as the visuals behind the show. 
One important thing that I learned is that for a show like this, you have to get used to the reaction and response as an artist on the stage. With a normal show, your goal is to have people jumping up and down and having epic moments; but with The Nine Skies, you want the audience to be captivated by the imagery, narration and the music. 
The goal for me with The Nine Skies was to provide something for the fans that was life changing, because peoples' lives don't change by fist pumping. I looked out and saw people crying, with their hands over their mouths in complete awe. 
There is one particular moment in the show, and it's quite incredible to witness. It's a very controversial part during The Activist segment, because it features Trump's inauguration. I knew what type of response that would provoke –  people getting angry and booing. But when the music comes in, with the imagery for protest and call for peace appearing on screen, people move from anger to euphoria and unity. 
The first few shows where this happened, it blew my mind, but it takes some getting used to, towards understanding and knowing what to expect. To see this extreme swing of emotions from the audience; it's a really heavy experience. 
Which other venues have you done Nine Skies shows in during 2017 and where do you plan to do them in 2018? 
The first presentation of The Nine Skies was at Dreamstate in San Francisco, followed by EDC in Las Vegas, SouthWestFour in London, Transmission in Melbourne, and finally at Transmission in Prague. 
The first presentation of The Nine Skies in 2018 will be at Transmission in Bangkok in March, with more shows to be announced. 
I should emphasise however that even though the album has been released, the show musically will not remain the same going forward. It will continue to evolve with new Dakota tracks, such as the likes of "Gandanic" which you may have heard during the recent Global DJ Broadcast Afterdark episode. So I hope that the fans will continue to support the album and the live shows well into the future.