Da Tweekaz's Exclusive Mix
We've got a massive Exclusive Mix to kick off your week with two of hardstyle's biggest artists! None other than Da Tweekaz have stepped up and packed their 60 minute mix jammed full of powerful tracks to get you through the week in a heartbeat. Get ready for some Disney infused hardstyle madness and take a closer look at Da Tweekaz!
Guys, thanks for joining us today. You are one of the first hardstyle acts that we've featured with an Exclusive Mix on 1001, so let's start with the that. Could you tell us a bit about a couple of go-to party songs in the mix and if somebody has never heard a Da Tweekaz song or mix before, what can they expect?
Hey guys, wow thanks for the honour, we really appreciate it!
Well, we feel almost that all of our tracks have some kind of party vibe, at least that's what we notice when we perform these tracks live. The vibe on the dancefloor is insane. Probably the most standout party track would have to be one of our "alcohol" themed tracks (don't worry, we don't have a problem) and that would be "Jägermeister." When we drop this – people just go crazy. It's a very fun, tongue in cheek song and people understand that so they feel it's alright to just let loose, at least for a few minutes anyway.
You have released some insanely popular tracks over the last years. One of our absolute favorites is the Lion King remix that we've been hearing in your sets a lot in the last months. How do these tracks see the light? Did you know Disney was coming up with the remake of the old school classic film?
Glad you like the Lion King track. Actually, it's not released yet, but we are planning something in regards to that. Just for your information, every single part of the track has been recreated and re-sung (by David Spekter). It was funny, we were making the track and then a few days after we started we saw the first teaser trailer for the Lion King. It felt like destiny :)
But, we enjoy Disney movies and we take a lot of inspiration out of them. Honestly the tune also works on the dancefloor – if we can get the strong muscle guys to sing, then it's a mission accomplished haha.
Music wise you guys seem to have no problem with keeping the creativity flowing. How does it work with you guys in the studio? Who does what in this duo?
Oh, after many many years of producing and being in the studio together, we've definitely found a good method for working. Although we obviously hit the studio together for the initial idea, after that it's a lot of 'solo' work. Marcus is more of a 9-5 kind of guy and Kenth does the night shifts, so there's basically a 24-hour stream of creativity which works really well for us. It's always a surprise coming into the studio and hearing what the other has done. It can be quite the creative process to work off of each other like that. It can also be quite the surprise, but let's not get into details on that matter haha!
Now hardstyle is a genre that is rising in popularity faster and faster. You guys play Tomorrowland Mainstage this year (congrats on that!). Are you part of a bigger master plan to spread the hardstyle virus to every corner of the world?
Thank you very much. We're very honoured to be the second ever fully hardstyle oriented artist to play such a stage. We're already working hard on perfecting the set and making music to really appeal for both the hardstyle fans who'll be there, but also the people who may have never heard of hardstyle before. So, it's a very thin line and actually not that easy to work with. But, we're very positive that we'll make it one big massive party!
We think that there are many artists, apart from ourselves, who are already bringing hardstyle to a broader audience all over the globe. So, it's very humbling to know that we can also do our bit and responsibly ease people into what is often labeled as quite an aggressive style – though we'd say it really isn't. Not our tracks at least ;).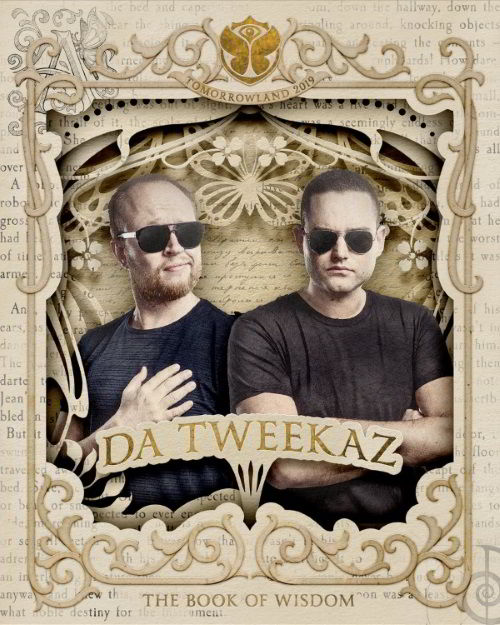 Speaking of all corners of the world, your tour schedule looks insane. Manga May is upon us and we see some huge gigs there. What is the one that you look forward to the most and which holy grail is still on your gig to do list?
Well, it's hard to choose one specific event, because we see so many dedicated fans at every event we play at. But, we're really looking forward to the trip to Australia again where we'll also be playing as Tweekacore and then straight off to Las Vegas for EDC – so literally flying around the world! We're definitely going to be soaking up some rays as well!.
What gig is still the holy grail? Well, probably still Tomorrowland. Although we know we'll be performing there on the Mainstage, we still aren't there yet and we need to prepare a lot of things.
Tweekacore is your happy hardcore alias under which you have a new show called Tweekalution. Could you enlighten the readers a bit about the difference between the two?
Tweekacore is a happy hardcore act that we also produce music as. We thought about keeping the "look and feel" of Da Tweekaz (moreover, the sunglasses) and then pimping it up a bit with a bit of a more futuristic style – and that's where the LED goggles come in.
Tweekalution is basically our "year" event. Each year we've thought about a theme to do an event about. We've done it for Tweekay16 and Tweekay18 and now we're theming it up even more with the "Tweekalution" events. Literally a higher step in our musical evolution. We're big comic fans and really loved the idea of superheroes, so we went that route.
There will be a "Tweekalution" single coming out very soon, which is literally our anthem for this year. 
Tweekalution is NOT an act, it's an event. Just for everyone's info ;)
Finally, if you guys were to collab with an artist outside of the hardstyle world, who would you pick?
Hmmm who to choose, who to choose. We have a lot of artists on the list. Probably the one highest on our bucket list would be to work together with The Prodigy. We've been such big fans of their music, however we were very devastated when the lead singer Keith Flint passed away. May he rest in peace.
And, we also just finished an official remix for a leading EDM name which we're really excited about. Maybe we will play it during Manga May? Who knows? ;)