Axwell: Enjoying The Music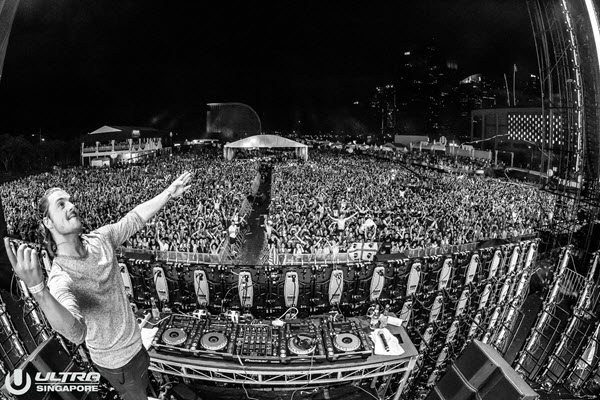 We caught up with Axwell at Ultra Singapore to discuss the latest in the life of one of the busiest people in the industry. Similtaneously releasing solo tracks and collaborations in addition to a hectic touring schedule as Axwell /\ Ingrosso, Axwell is also at the helm of Axtone, consistently churning out top quality tracks. Enjoy Axwell's perspective and be sure to download his recently released thrilling Tomorrowland set [tracklist]. 
You have always had a major influence on the entire electronic music scene. How does it feel seeing such a platform of connecting people expanding all around the world?
It's amazing. Coming to a place like Singapore is fantastic. This is the first time Ultra has been here and it really didn't feel like it. It's been so big and so great. Singapore has had a good scene for at least ten years. The scene in Asia in general is growing.
You have had the biggest hit tracks, you headline the biggest festivals, and you work with the most brilliant minds in the industry. What's left on your bucket list?
I just like making good music that makes me feel something. That's the only thing I really want to achieve: continuing to make music that makes
me
feel good. And then every once in awhile go to a place like this! And play for a bunch of people that enjoy the music that I like. That's the meaning of my life.
Let's talk about your label, Axtone. It's so ahead of the curve and the tracks require listening a few times to really appreciate them (and then you listen over and over). Where do you discover such talent and select tracks?
I get a lot of tracks sent to me and obviously we are working closely with artists like Shapov, MEG / NERAK, and Klahr, and we also work closely with Tom Staar, Kryder, DubVision and a lot of other artists. Every once in a while, there is a song that I feel something when I hear it. There's a lot of songs coming out nowadays that are okay. At one point, I was saying yes to more tracks than I would like because I planned to fix them myself. But now, I don't really have the time to do that. I prefer to make new music myself. The tracks now have to be good by themselves.
What's coming next from Axwell /\ Ingrosso? We know that you guys had announced an album.
Well actually, the album is out. We released ten songs, so that actually is the album. When we announced that we were going to do an album, the music scene looked a little bit different from what it is today. It moved really fast into playlists and Spotify. So we were like, you know what, if we just release song by song, it would become a Spotify playlist for people, and that's our album. We prefer that to releasing a full album because people would listen to it for one week and then forget about it, which is what happens. So we just released one song, and then one song, and then another song, and now if you search for our name on Spotify you'll see all of our songs, and it's an album in today's terms. We will continue to keep making music that we like and keep putting it out.
If fans would raise $1M for charity, would you do another set as Swedish House Mafia?
I don't think so. I think that we would rather do a charity elsewhere. That would be a nice gesture and very flattering, but we do a lot of charity already. I would say that if world peace was something that people were discussing, then that would be something worth reuniting for.